Wendy Jones Hill shares her story this weekend!
Take a peek behind the scenes during the recording of this weekend's message earlier this week. Wendy Jones Hill is a well-known singer and performer in the Madison area and a staple performer at FPC worship services. She shares her compelling story during an interview with Pastor Kirk. This is a message that you won't want to miss. Join us in person on Sunday at 8:45 or 10:45 am or online anytime to learn more from Wendy.
---
---
Shepherding the Flock
November Session Meeting Summary
Submitted by Dianne Larson, Clerk of Session
Your Elders continue working hard for FPC. Here is information from the November Session meeting:
When the Madison Dane County Public Health mask requirement has expired, masks will be optional at FPC except masks will be required by persons in the educational wing hallways and classrooms being used where children under the age of twelve are present.
Masks will be required in the building on Sunday, December 19 during the children's ministry nativity service.
FPC's Live Nativity will be Saturday, December 18 from 5-7.
Periodic breakfasts between services will be allowed. The first one will be Sunday, December 5.
A mission trip to Guatemala is being planned for the first week of January. Please contact Tryg Knutson if you are interested.
Session is working hard on the budget for 2022. If you have not yet pledged, please do so now.
Session is discussing the parking lot needs. This is a big project and more information will be coming in the future.
Project Connect has begun. This pairs fourteen families with fourteen homebound/older members.
Discussion is beginning on many future events including a retirement party for Pastor Kirk. Stay tuned for details.
---
Project Connect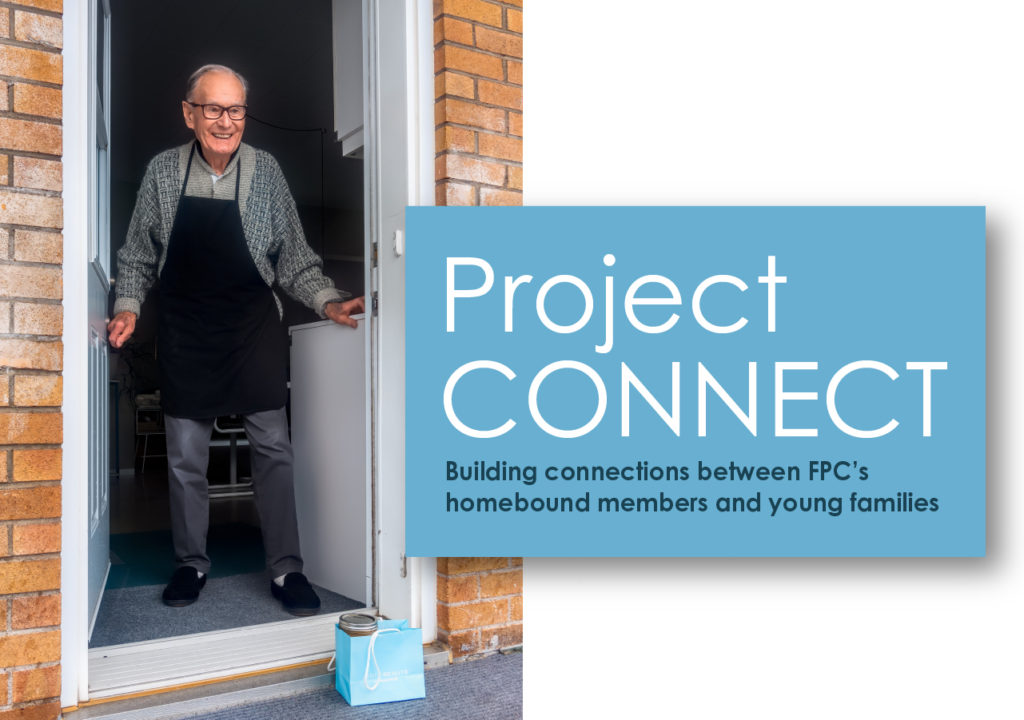 Beginning in November and continuing through December, the Deacons and Family Ministry have partnered to connect willing and excited FPC families with 14 homebound households of members and older folks in our congregation.
We are encouraging these families to develop connections through being a "pen pal," safely dropping off care baskets, prayer–or whatever the families felt comfortable doing. Along with blessing our older folks, it is a huge blessing for parents to help their kids and teens experience and remember the joy of giving.
---
Thanks for your support, FPC Family!
A statement of thanks during a difficult time from Penny Holum:
I wanted to thank you for the support of the cards & flower arrangements from the Waunakee Church Family. Your kind messages and prayers have been much appreciated as Dan & I navigate through this tumultuous time in our lives. We will lean on your prayers to build our strength and steadfast faith in God's plan for us.

-Penny Holum ( holum4@gmail.com )
---
Video Devotional: Give Thanks in All Circumstances
In this video, Reverend Jeff Quinto, Director of The Bethel Series and FPC member, shares the Apostle Paul's advice to "give thanks in all circumstances" and how it has been important in his own Christian walk. In this video, an episode of Scriptures for Life, Rev. Jeff demonstrates how to do it every day.
---
Christmas Poinsettias
This is the last weekend to contribute a poinsettia for Christmas! Poinsettias can be given in memory of a loved one or in celebration of a joyous event in your life. You provide the name of the person or event you want to honor along with a $26 payment, and we will place the flowers in the sanctuary in memoriam. Plants can be taken home after the final Christmas Eve service.
If you would like to contribute a poinsettia for Christmas, print and fill out the form and submit it with your check to the church office.
---
We're eady to celebrate Christmas!
Thank you to all the families that helped add these elements of Christmas cheer and made our church ready to celebrate the coming of the Christ Child!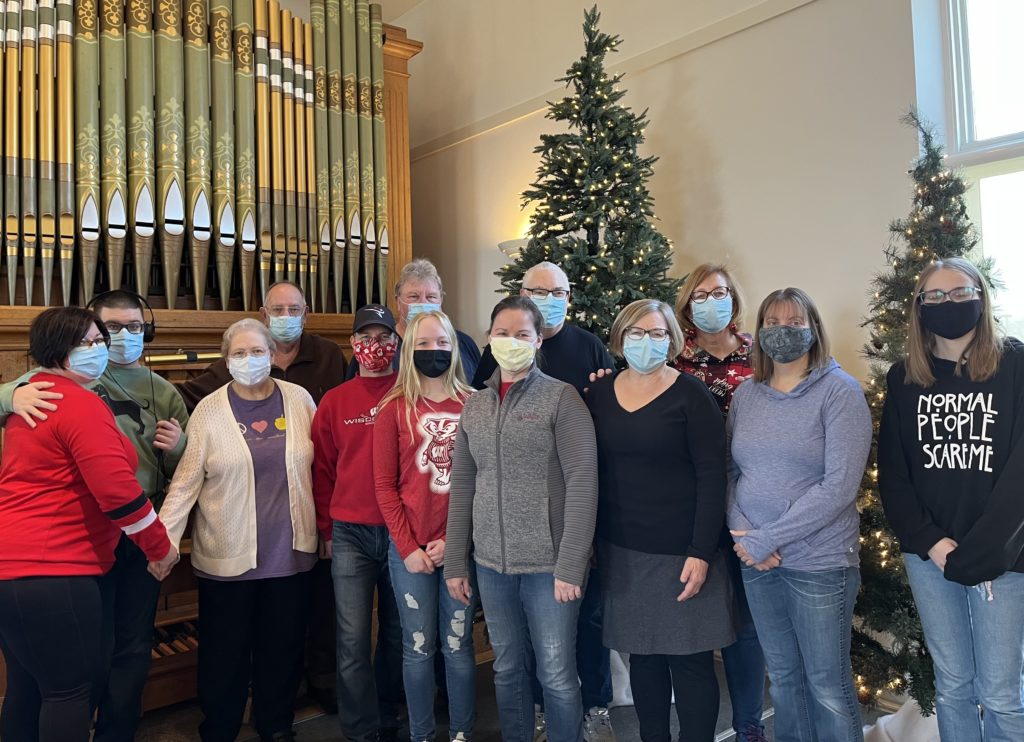 ---
Advent & Christmas 2021 Web Page
Now available at myfpc.org, you can find all of the Advent and Christmas info in one place! Like directly to the page from the tab in the top right-hand corner of the site. Do you have additional information to add? Send an email to communications@myfpc.org.
Take me to the Christmas stuff!
---
WEEKLY ANNOUNCEMENTS | December 5, 2021
THIS SUNDAY: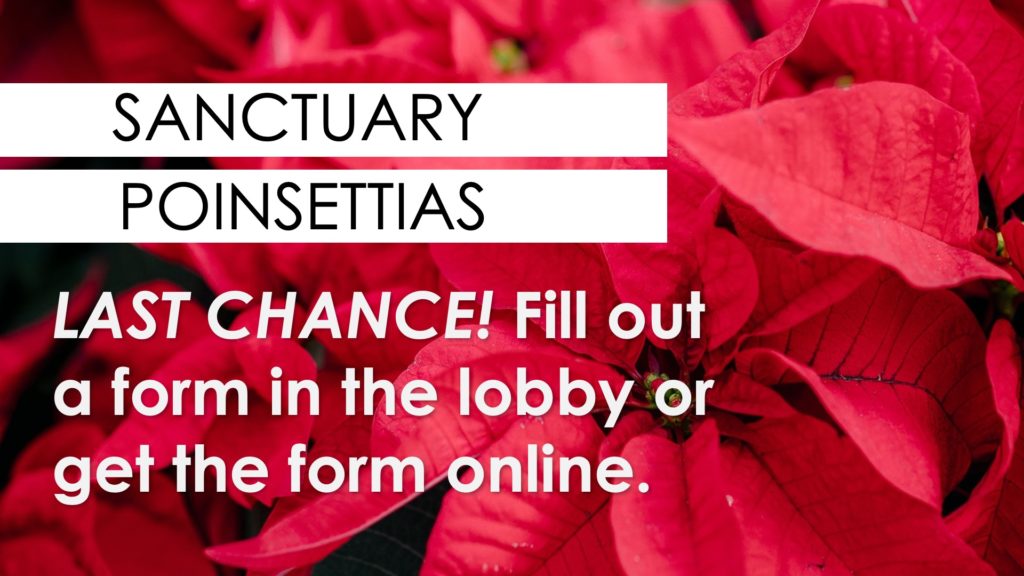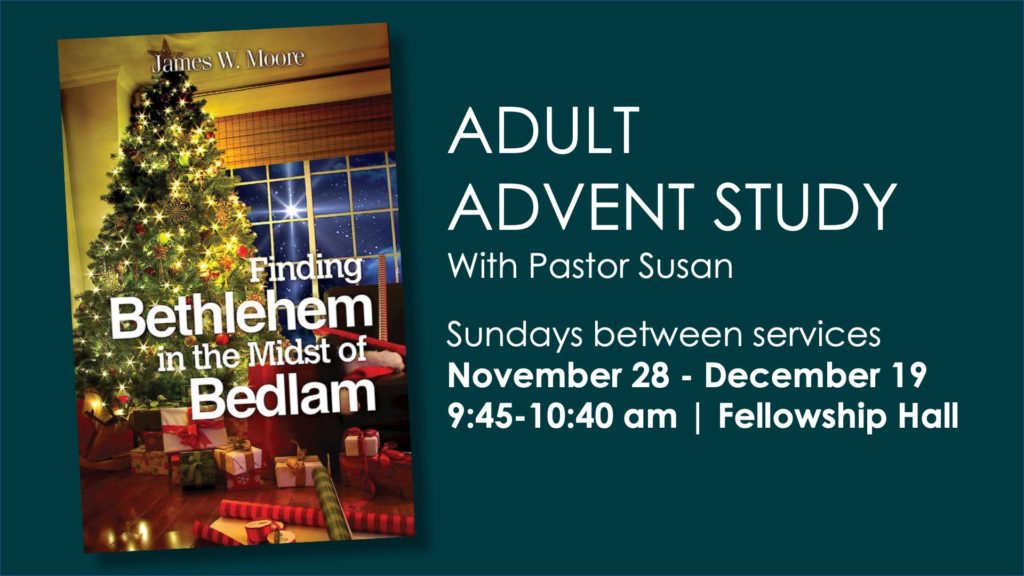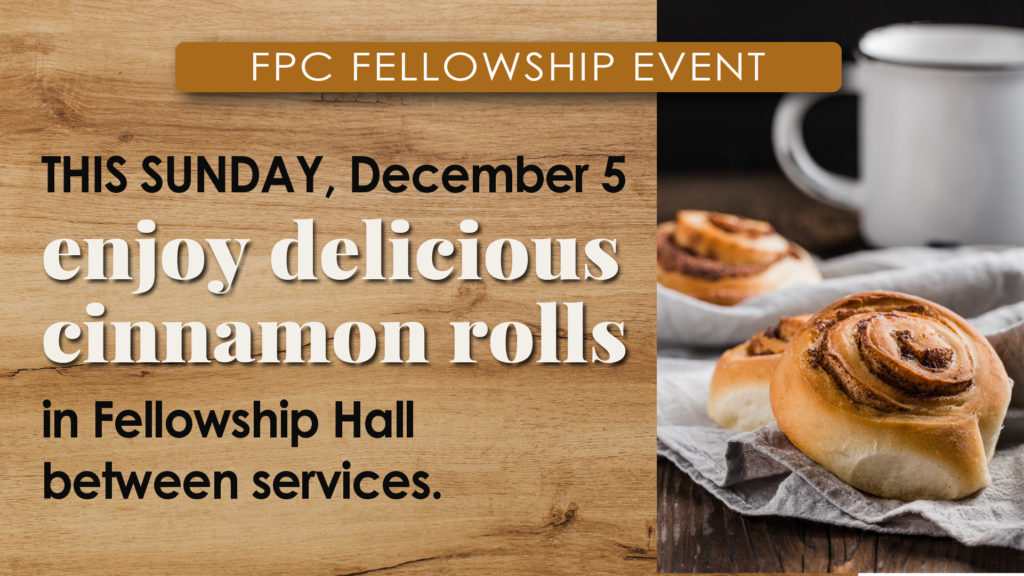 A small breakfast will be offered between worship services on Sunday, December 5th. Enjoy some delicious cinnamon rolls in Fellowship Hall beginning at 9:45. Hope to see you there!

Hello FPC families! We'd like to learn how many kids are interested in participating in a Children's Nativity Service this year. We will be dressing up in costumes but this year, there will also be parts to sing, and kids can have a speaking part if they choose! If you are interested in more information, send an email to Patricia Coley, Director of FPC's Children's Ministry, in the link below.
We are very excited to start working on this. Rehearsals will take place during Sunday School: December 5, 12, and 19. It's okay if you can't make them all. The nativity performance will be December 19 at 4:00 p.m.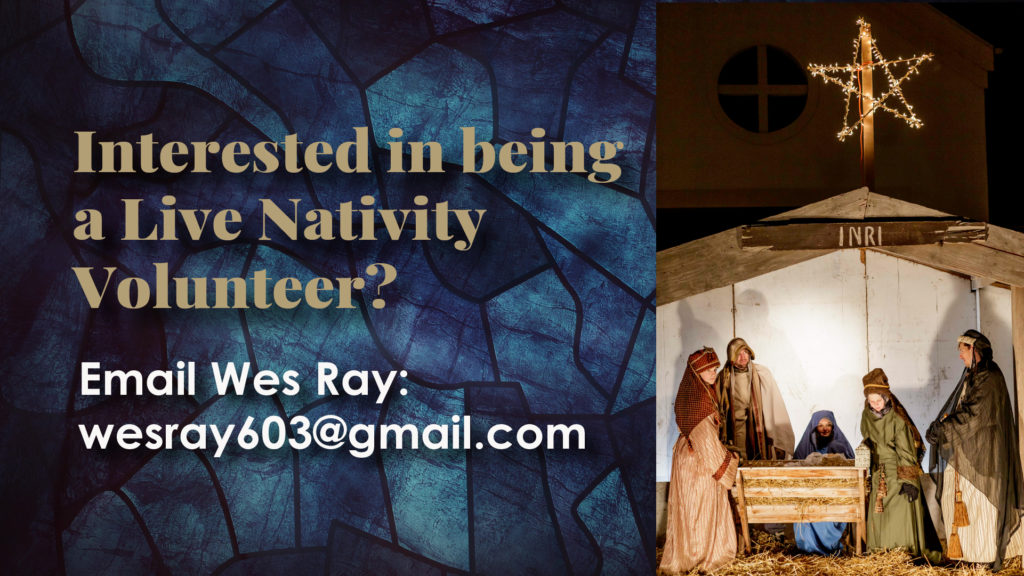 Or, you can sign up directly online! Use the link below: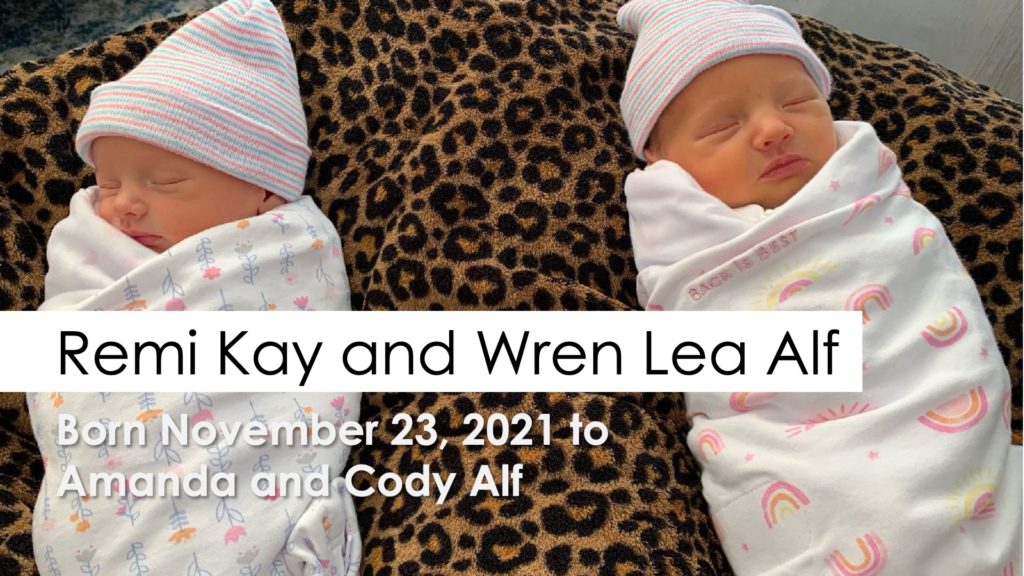 Congratulations to Bernie & Sheryll Gehrmann who just became grandparents to identical twin girls! Parents Amanda, and her husband Cody Alf, welcomed Remi Kay and Wren Lea on November 23.

FPC is looking for someone to help in the nursery. We have one person ready to help, but we need two people to run the nursery. If interested, please contact Elder Melissa Schall via email or call the church office.
Stephen Ministry at FPC: Providing God's Care to Hurting People
What is this ministry about?
Extensively trained and supervised Stephen Minister Caregivers provide high-quality, one-on-one confidential Christian care to anyone in need. They provide weekly visits and ongoing support as long as the care receiver needs. Should the care receiver have needs that are beyond the scope of a Stephen Minister Caregiver, they are referred to professional caregivers.
What kind of care is offered from a Stephen Minister?
CRISIS CARE – For people experiencing change(s) that significantly challenge their ability to cope.
FOLLOW-UP CARE – After the crisis event.
CHRONIC CARE – For a person whose situation is unlikely to change.
PREVENTIVE CARE – Providing care before a crisis occurs.
SUPPORTIVE CARE – Care for the caregiver.
How can I find out more about this ministry?
Call the church office at 608-949-9445, or reach out to a pastor or deacon. Stephen Minister Caregivers don't replace the care of pastors and deacons. They carry it a step further.
---
Want to receive an email notification when the weekly Connector is updated? Sign up here!