At FPC, we are dedicated to helping you learn about and understand faith. The more we know about the path we travel, the better we know the One who travels with us, the more richly satisfying the journey. We provide opportunities for adults to grow through Bible Studies, adult Sunday School opportunities, Lenten programs, and special presentations throughout the year.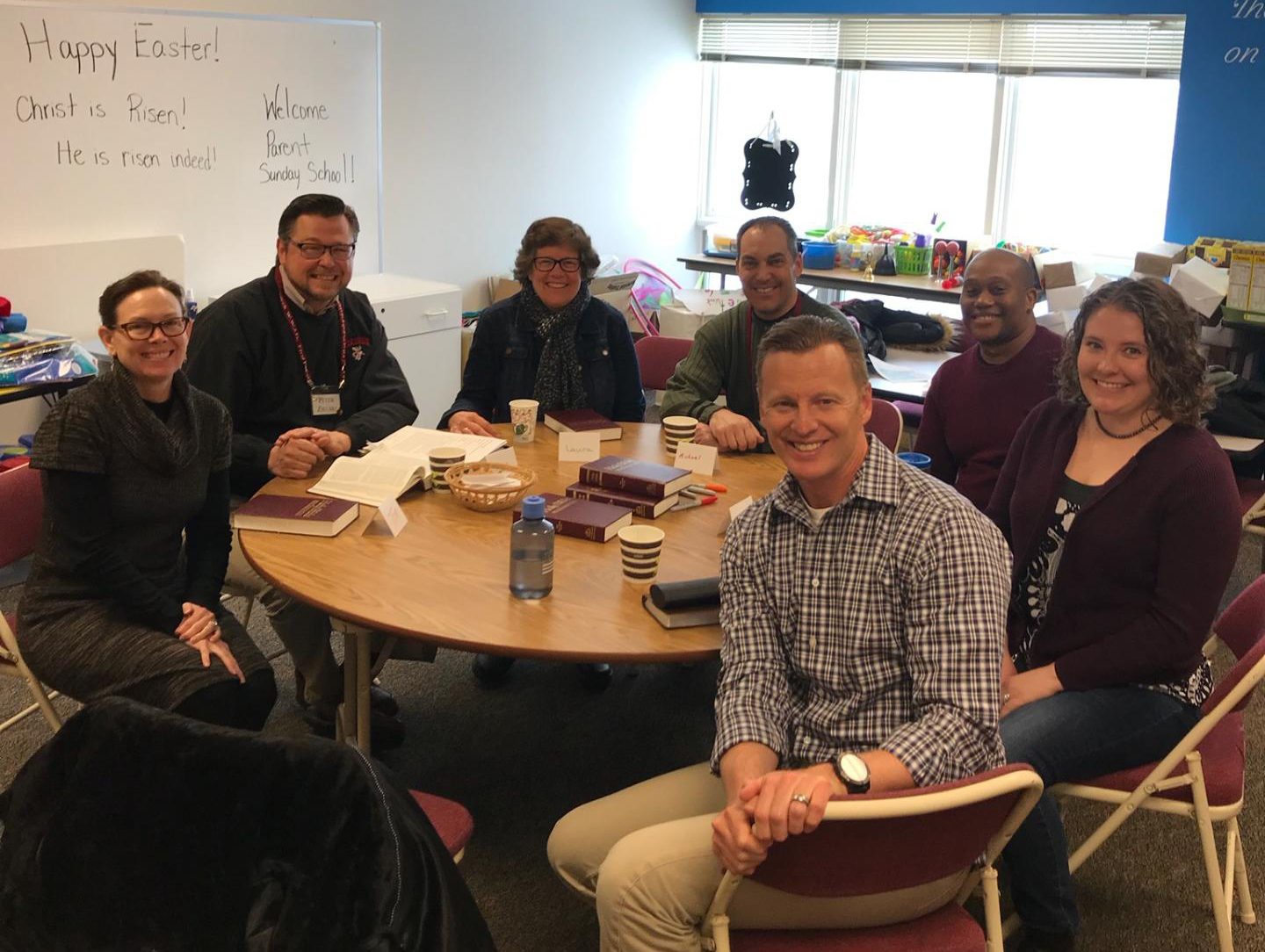 Adult Sunday School for Parents and Grandparents studies the same lesson that FPC kids are learning in Children's Sunday School so that parents and grandparents are equipped to help kids on their faith journey. This class is open to all adults and is taught by Peter Zielski, Adult Nurture & Spiritual Growth Elder. No previous Bible knowledge is required. Classes are held every Sunday between services in Room 304 during the school year. Drop off your children at their Sunday School classes, and then join us.
---
The Bethel Bible Series
FPC Living Faith Together presents The Bethel Series. It's the best book club ever – featuring the best book ever written – the Bible! The Bethel Series is for adults and uses pictures and key concepts to teach the sweep of the Bible. All we ask is that you read a bit each week and join us with a curious mind and an open heart. And yes – it is FUN! Arts and crafts, the occasional costume, jokes, snacks, and fellowship with other flawed, confused teachers and students seeking to understand God's intention for humanity.
To cover all the material promised, the Bethel Bible Series program consists of a two year sequence. The first year includes 20 lessons for the Old Testament, and the second year includes 20 lessons for the New Testament. If you value growth in a more intimate knowledge of the Bible, the Bethel Bible Series is designed for you. New classes start each fall. Email Jeff Quinto, FPC Member, to stay tuned in for the next set of classes starting in the fall of 2020.
---
M.O.P.S. Mothers of Pre-Schoolers // MOPS is a tribe of moms of all ages and stages living life together. It's a place for friendship, community, support, and growth. We are calling you to join us in taking a chance at a fresh start this year. Let's have more fun, fear less, and find our people.
Contact Christa Schmeelk, Director of Family Ministries at  cschmeelk@myfpc.org for more information or to sign up.
This group is currently meeting in-person outside. Check the latest Connector for up to date meeting information.
---
"The Light Team" Women's Bible Study meets from the early fall to early spring in the Gathering Place. Women at FPC who are interested in becoming closer to God through Bible lessons from Christian speakers and involvement with one another through prayer and fellowship should join us. This is a time for reflection and discussion, not for homework or extra reading. We all understand that some sessions will be missed for travel, appointments, grandchildren, etc. and end our weekly sessions with humor and treats. All women are invited to participate. If you have any questions, please email Lynda Bennin.
This group is currently on hold due to coronavirus.
---
The Wednesday Morning Women's Bible Study Group is made up of women from the community at large, not just FPC.
This group is currently on hold due to coronavirus.
---
The 807 Group for Men meets Saturday mornings at 8:07am at Spring Garden Restaurant in Waunakee. This men's Ecumenical group meets weekly for study and fellowship.
This group is currently on hold due to coronavirus.
---
The Sunday Morning Bible Exploration for Adults explores the Bible in a safe and welcoming environment with other adults. Adult Sunday School is held each week between worship services on Sundays. All are welcome to drop in any time.
Adult Sunday School is currently on hold due to coronavirus.