We are always looking for ways to bring people together through Fellowship at FPC. There are numerous opportunities for you to connect with others in our church family socially. To find out more about what's upcoming at FPC, visit our events page.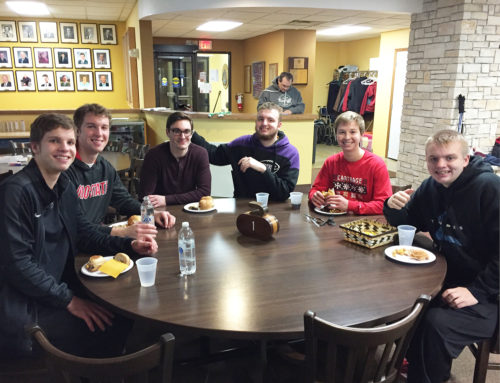 New Horizons is a gathering of FPC members over 55 and friends who meet for fellowship and food on the second and fourth Wednesdays of each month at 11:30am during the school year. New Horizons also features a variety of speakers at their meetings. Guests of any age are always welcome. For more information about New Horizons, email Steve Doty.
P.O.L.O. (Parents of Little Ones) Play Group is a time for parents and guardians to gather together with their kids. Check the Events Page for meeting dates. Bring your little ones to play while you connect with other parents. Meet in the FPC Nursery located on the first floor Education wing from 9:30-11:00am on Thursdays; September 26, October 10, November 7, & December 12 from. No RSVP needed, just come join us if it works for you!
For all the bookworms out there, there's FPC's Book Club. Book club meets one Sunday per month after the 10:45am service at noon at MnM's in Wauankee. For more information, contact Audrey Manning. October 20th's discussion will be on Eleanor Oliphant is Completely Fine by Gail Honeyman. Start reading When All is Said by Anne Griffin for the November 10 discussion, or even get way ahead and read Vinegar Girl by Anne Tyler for December 15's discussion.
FPC has two card clubs —if you are a pinochle or sheepshead player, these groups offer great ways for you to extend your fellowship opportunities. Contact Dave Healy for more information.
FPC Quilters meet at 1:00pm on the third Thursday of each month during the school year in the Gathering Place at FPC. All are welcome. For more information, contact church member Anne Frihart.
For upcoming events, visit our Events page.
Do you have a special talent or interest you would like to share with members of the congregation? The Fellowship Team is always looking for new ways to bring people together, and we'd love to help you facilitate an event. Please let us know if you have any suggestions for an outing, special interest class, or other event. We'd love to hear from you! Contact Fellowship Elder Kate Dietry.