Jump to this week's announcements!
What we say, so we do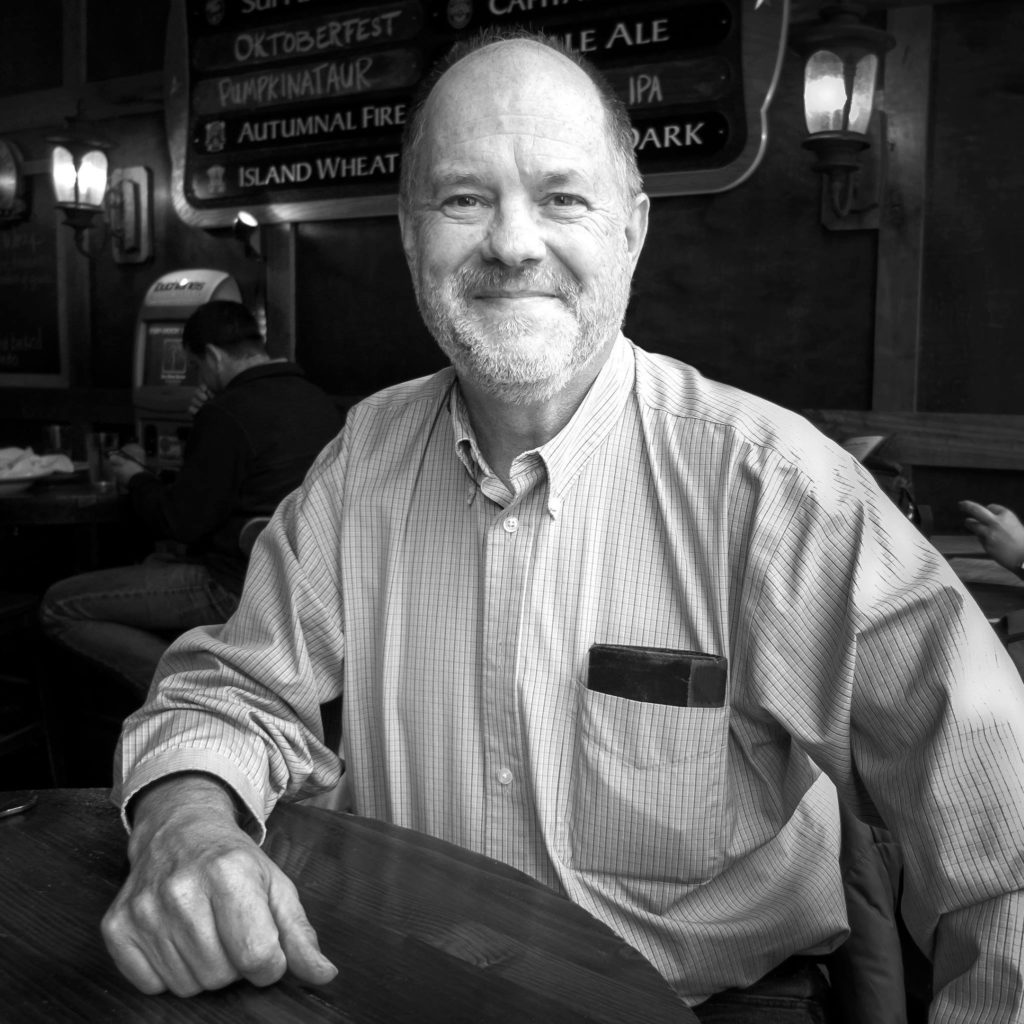 One reason that I am Presbyterian is the richness of our denomination responding throughout history with various affirmations of faith which we call Confessions. These affirmations are housed in PART 1 of our PCUSA Constitution entitled: The Book of Confessions. Fascinating and inspiring documents. The second part of our Constitution is called The Book of Order which is where we find out how to live out our faith as a church body. The phrase "What we say, so we do" is apt. We Presbyterians seek to be consistent in our faith and in our actions. In other words, we seek to be authentic – our words rhyming with our behaviors. 
To give you a taste of one Confession (Affirmation of Faith), the following section is from the Brief Statement of Faith (1983). It speaks about the Holy Spirit. It still rings true for me even though it was written over 40 years ago. 
When you have a quiet moment, I would invite you to slowly read these words. Pause and allow them to wash through you. When it is right, read it through a second time and write down any word or phrase that catches your eye, or your heart. Finally, I would suggest that you read this passage once a day for the next week. What do you notice? What phrase or word stays with you? Then let me know by email greichelderfer@myfpc.org or a short chat what the fruit of this spiritual exercise has been for you. What might God be saying to you, to us?
Blessings. Pastor Glen
We trust in God the Holy Spirit,
everywhere the giver and renewer of life.
The Spirit justifies us by grace through faith,
sets us free to accept ourselves and to love God and neighbor,
and binds us together with all believers
in the one body of Christ, the Church.
The same Spirit
who inspired the prophets and apostles
rules our faith and life in Christ through Scripture,
engages us through the Word proclaimed,
claims us in the waters of baptism,
feeds us with the bread of life and the cup of salvation,
and calls women and men to all ministries of the church.
In a broken and fearful world
the Spirit gives us courage
to pray without ceasing,
to witness among all peoples to Christ as Lord and Savior,
to unmask idolatries in Church and culture,
to hear the voices of peoples long silenced,
and to work with others for justice, freedom, and peace.
In gratitude to God, empowered by the Spirit,
we strive to serve Christ in our daily tasks
and to live holy and joyful lives,
even as we watch for God's new heaven and new earth,
praying, "Come, Lord Jesus!"
---
---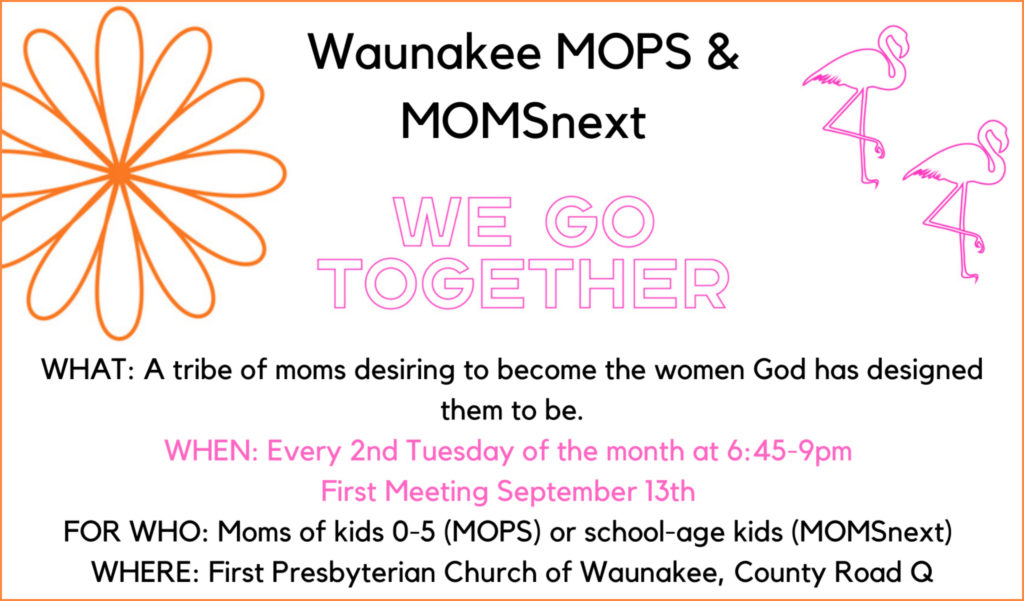 ---
---
---
Help Wanted: Part-time Volunteer Coordinator
First Presbyterian Church (FPC) of Waunakee is seeking a part-time Volunteer Coordinator to join our staff. Duties include, but are not limited to, working with staff and Elders to help recruit and manage volunteer efforts. This position is estimated to require 2-4 hours per week. Pay is negotiable. Position is open until filled. For details or to apply, please contact Doug Brown at dougrbrown1980@gmail.com.
---
---
---
Food items need for Waunakee Food Pantry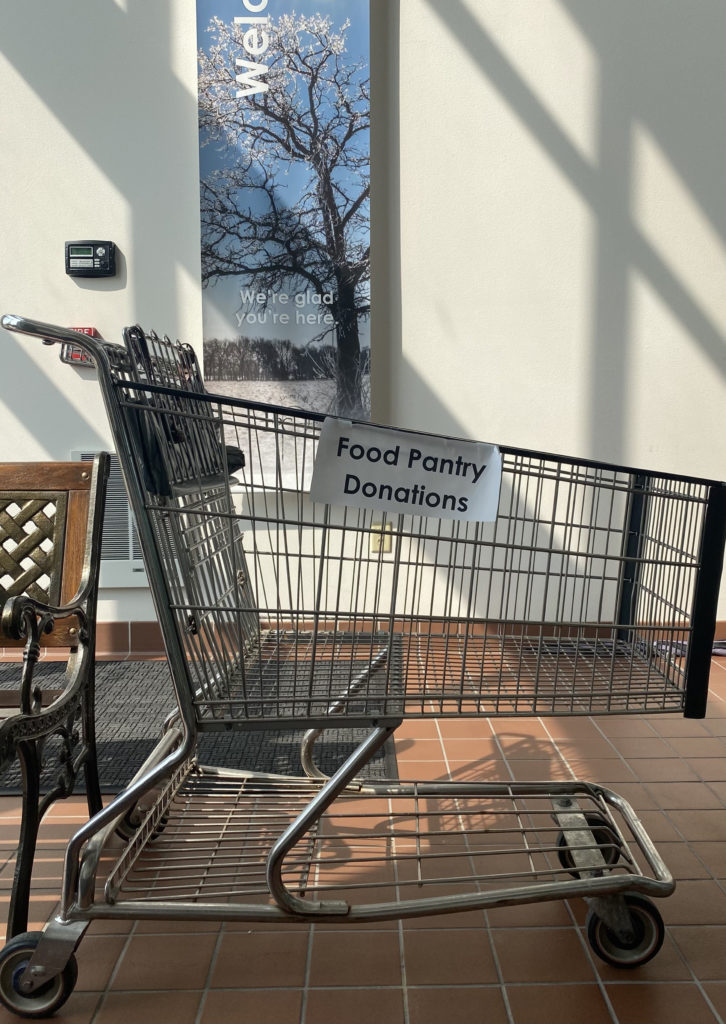 The food pantry is currently in need of the following items. These can be dropped off in the grocery cart at the south entrance of the education wing. The number of clients has increased greatly and your family's involvement would be much appreciated. Items in need currently:
jello/pudding
granola bars
toilet paper
pasta/rice sides
tuna helper
---
---
---
Spreading Our Love-Care Packages for College Students and Military Personnel away from home
We love this time of year! The Deacons send care packages with treats and encouragement to our students and military away from home to let them know FPC is thinking of them and praying for them. If you would like your student or member of the military to receive a care package, please provide a mailing address, and any food allergies, to Lori Phelps at lori.phelps@charter.net or phone 608-235-7899, no later than Friday, October 7. Thanks for spreading our FPC love!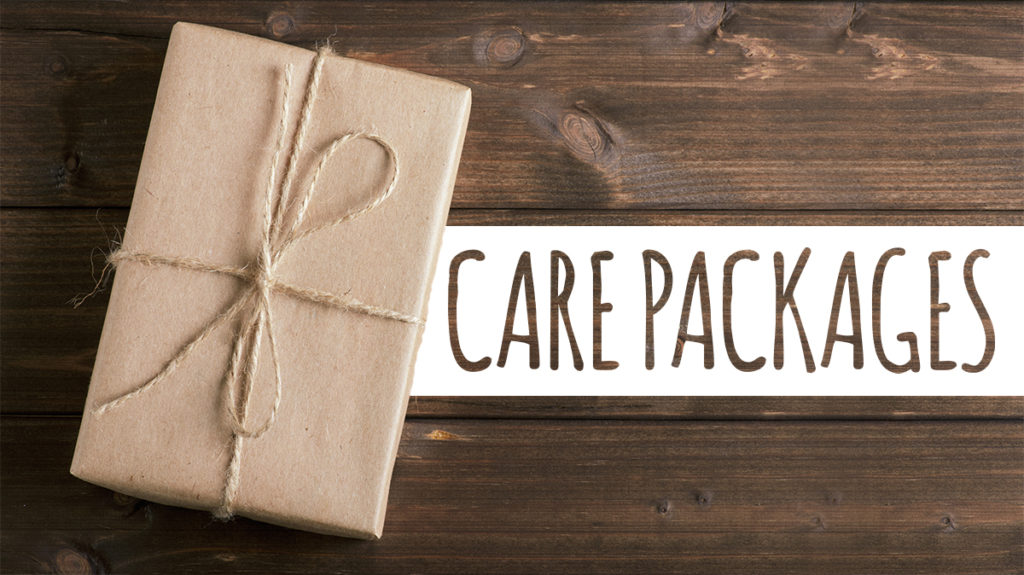 ---
---
---
Care Package Stuffings
Could you bake or contribute an item for FPC's care packages for our students and military personnel away from home? Ideally, you would put 3-5 items in a ziplock type bag to stay fresh, which will also allow us to have a variety in each care package. Contact Lori Phelps at lori.phelps@charter.net or phone 608-235-7899 if you can help. Care packages will be stuffed Sunday, October 9. Thank you for your kindness!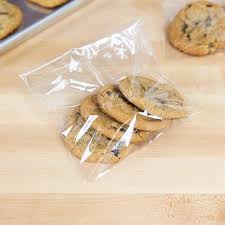 ---
---
---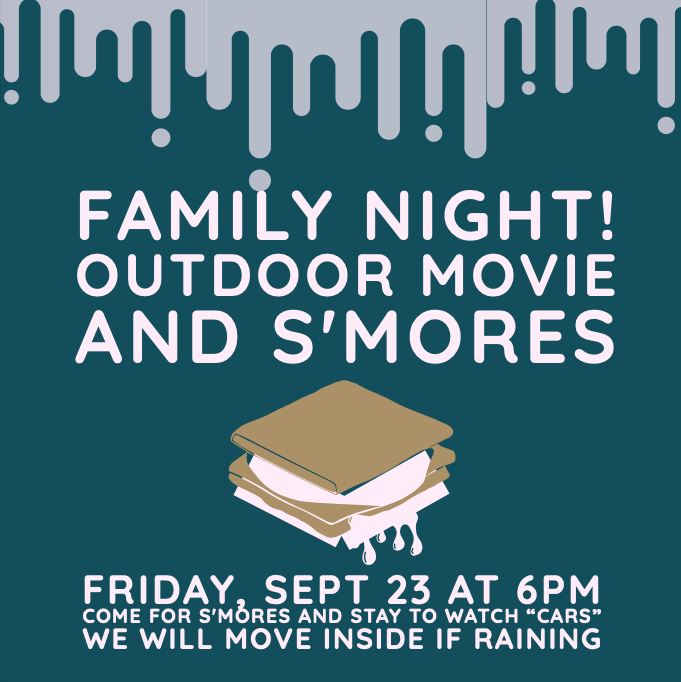 ---
---
---
Parking Lot Construction: COMPLETE!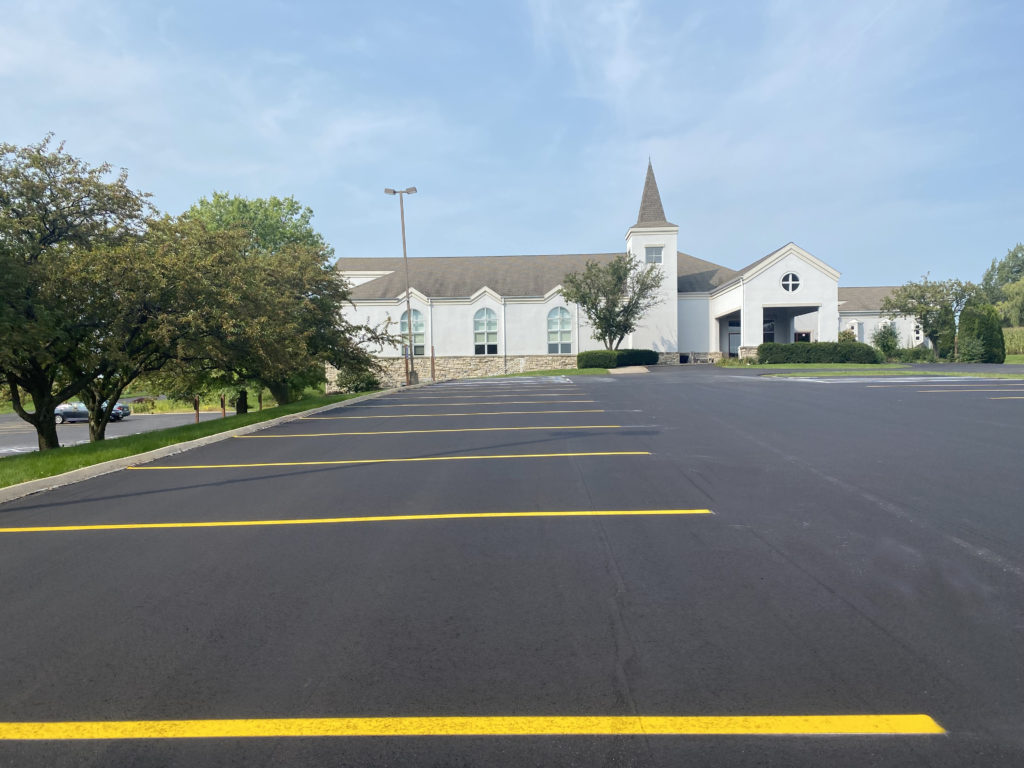 Parking lot construction began on August 1, and was to take two weeks. After seven weeks, I am thrilled to report the parking lot construction is complete!
We have found some surprises with the base layer of earth, the weather wouldn't always cooperate, a holiday weekend was in there somewhere. But in God's time, and the help of Wolf Paving Company, we got it done! The whole parking lot is again usable for this Sunday.
Praise the Lord!
RJ Binau, Buildings and Grounds Elder.
---
---
New Horizons: Annual Cookout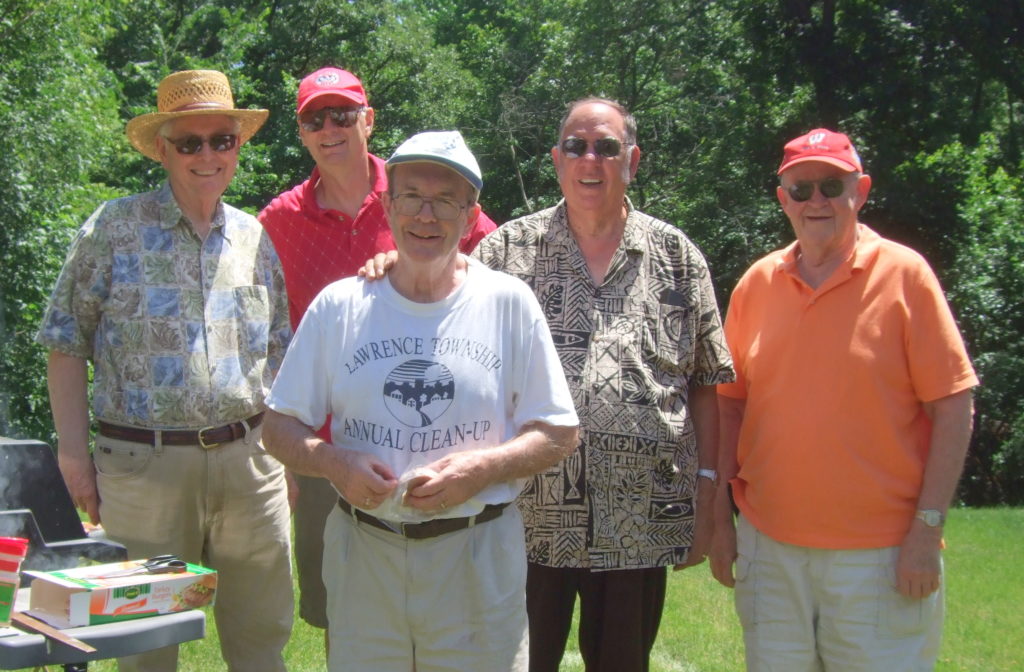 New Horizons: Annual Cookout will be at Anne and Chuck Frihart's backyard. They live on Ballweg Road in Dane, which is northwest of Waunakee off of Highway 12. Turn right just past the pedestrian bridge that goes over Hwy 12. 
When: Wednesday, September 21 at 11:30 a.m. come Rain or Shine
Where: 8179 Ballweg Road, Dane, WI 53529
Cookout and Picnic: Meat and drinks will be provided. For those who are able, please bring a side dish, snack or dessert to share. Grandchildren are also welcome to come.
Car Pooling will be available, leaving at 11:00 a.m. Call Anne and Chuck to get a ride or to offer to be a driver, we can pick you up at the FPC parking lot, or we can pick you up at your home. 
For questions or to share a ride, please call Anne and Chuck: 608-512-3620 or Vicki and Steve: 608-849-4058.
New Horizons is a gathering of First Presbyterian Church members and friends over 55 (guests of any age are always welcome). We are making plans for the rest of the school year and we invite your input.
---
---
Volunteer Meeting – Buildings and Grounds
The Buildings and Grounds Elder is calling a meeting for Wednesday, September 21, 2022 at 6 pm  in the gathering space for anyone interesting in volunteering to help with the work of the Buildings and Grounds team.  We will discuss the upcoming fall clean-up day – scheduled for Saturday October 8th (rain date October 15th) some long range plans for the landscaping of the property and some of the plans for changes related to the inside of our wonderful facility.  A willingness to pitch in and help is all that you need to bring to the team.  Hope to see you on the 21st. If you have any questions, please call RJ Binau, Building and Grounds Elder, at 608-334-8032.
---
---
---
Food for Kidz: Oct 16

Food for Kidz is taking place on Sunday, October 16, and we're looking for volunteers to fill three tables. This is a great opportunity to volunteer as a family or individual to help put together meals that will be shipped to Ukrainian refugees and food pantries around Dane County. If you're interested in volunteering, click here for the Sign Up Genius link to learn more and sign up.
---
---
---
Guest Musicians: The Blue Skies Sax Ensemble
The Blue Skies Sax Ensemble is led by church member Dennis Bear, who also plays in our own Joyful Noise instrumental ensemble.  Dennis and his friends have many years of experience playing in and around the Madison area for a variety of audiences.  Their music features classical, jazz, traditional, holiday and religious genres.  Thanks to the Blue Skies members for sharing their gifts with us this Sunday!
---
---
---
Upcoming Special Music in Worship
September 18 – Blue Skies Sax Ensemble
September 25 – Chris Kashnig, Guest Clarinetist
October 2 – Joyful Brass
---
---
---
Time For Prayer | Tuesdays at 4:30 pm | Gathering Space
Do you believe in the power of prayer? Join us at Time for Prayer on Tuesdays at 4:30 pm in the Gathering Space at church. We gather to lift up concerns for this world, our country, our church and our own personal requests. All pray-ers welcome! When we don't feel like praying out loud, we say "praying silently."
For the past 18 years, Time for Prayer has lifted up thousands upon thousands of prayers. With Jesus in our midst, we lift up what is on our hearts, and know that our prayers are heard and will be answered. Come join us, and be blessed.
---
---
---
---
---

---
---
---
WEEKLY ANNOUNCEMENTS | September 18, 2022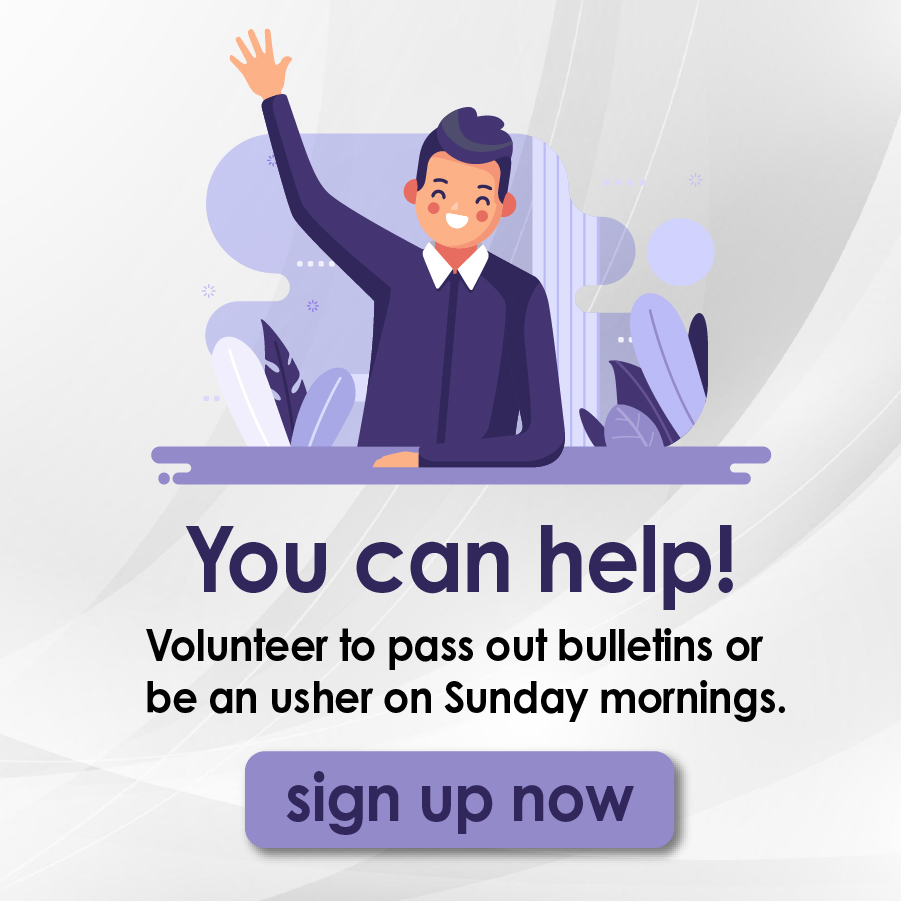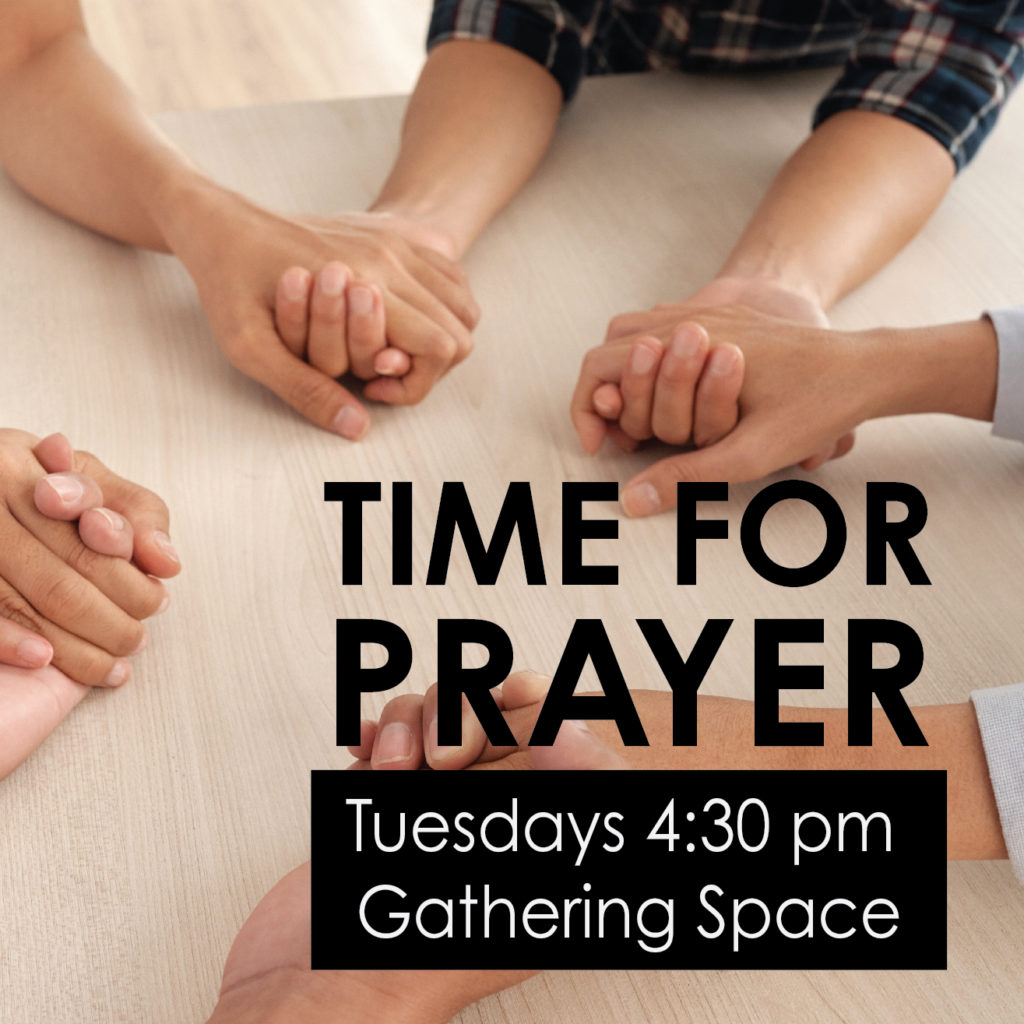 Connect with the Connector!
In an effort to streamline the process for submitting requests for event announcements in the Connector or spoken during the worship service, Communications has developed this easy-to-use online form to share all of your important information.
Click the link below to check out the form and if you have any feedback or questions, please send an email to communications@myfpc.org.
The Connector comes out at 4pm every Friday. The deadline for submissions is Noon, the Wednesday prior.
Thanks!
Our Friendship Pads are back
Our Friendship Pads are back in the pews! We invite you to sign the Friendship Pad and write a note to the office if you wish. Pass it along and pass it back. Pause to greet someone following the service.
---
ATTENTION: All students in 7-12 grade
All students in 7-12 grade are invited to participate as we kickoff our fall offerings.
Join us Sunday mornings in the upstairs youth space from 9am-9:50am as we begin our Characters series that will explore the Bible through the lives of its people. There's also free hot cocoa!

Join us Wednesday evenings in the upstairs youth space from 7pm-8pm for a time of fun, connection, relevant messages, and meaningful discussions. The series for September is on Friendship.

We also have some great opportunities coming this year, including the Confirmation Journey, our annual winter camp, and our mission trip experience to Guatemala to build homes for families in need.
---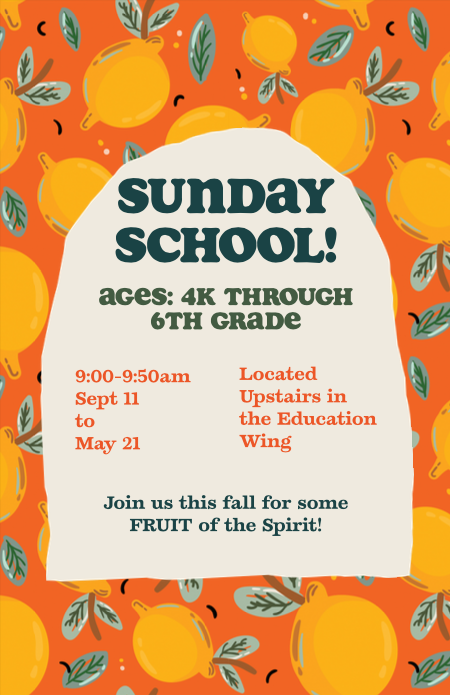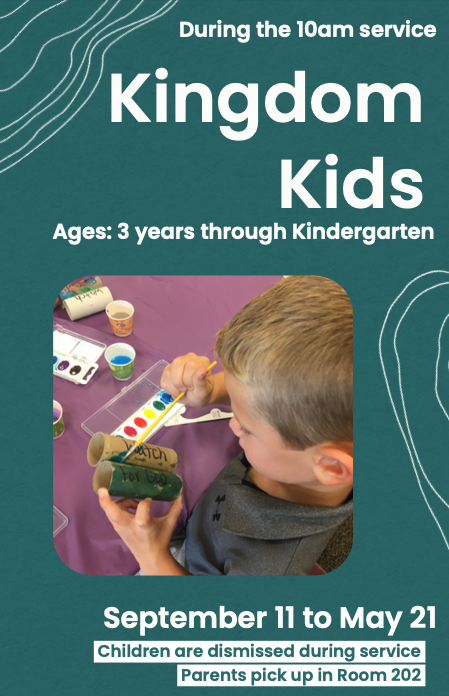 ---
MOPS begins on Tuesday!
MOPS begins on Tuesday! Every 2nd Tuesday of the month at 6:45pm, we invite all moms of early childhood kids and school age kids and teens to join us! Flyers are on the table in the lobby!
---
New Horizons: Annual Cookout 
New Horizons: Annual Cookout will be at Anne and Chuck Frihart's backyard.
When: Wednesday, September 21 at 11:30 a.m. come Rain or Shine
Where: 8179 Ballweg Road, Dane, WI 53529 
Cookout and Picnic: Meat and drinks will be provided. For those who are able, please bring a side dish, snack or dessert to share. Grandchildren are also welcome to come. 
---
Adult Sunday School: Sundays 9am
Anyone is invited to our Adult Education Sunday morning study that meets downstairs in the old Sunday school room closest to the kitchen in Fellowship Hall every Sunday at 9am. Contact Carolyn Harris with questions.
---
The Light Team Meeting: Mondays Sept. 12-Oct. 3
The Light Team is comprised of women who want a chance to meet for fellowship and Bible study. We pray for each other and those in our church family and community. When possible, we extend ourselves in projects to help others. There is no homework and we include humor and laughter! We will be meeting in the Gathering Place @ 1 – 2:30pm on the following Mondays. All are welcome to attend any or all of our sessions. From Sept. 12-Oct. 3 The Light Team will be reading "Follow" by Andy Stanley.
---
Waunakee Boo Bash!
Join the Children's Ministry @ Waunakee Boo Bash! October 19 4-7pm at the Public Library Parking lot. Click here for details!
---
Family Open Gym Game Day: Nov 13
FPC Family Open Gym Game Day! Village Center Gym from 1-3pm on November 13
---
Stephen Ministry at FPC: Providing God's Care to Hurting People
What is this ministry about?
Extensively trained and supervised Stephen Minister Caregivers provide high-quality, one-on-one confidential Christian care to anyone in need. They provide weekly visits and ongoing support as long as the care receiver needs. Should the care receiver have needs that are beyond the scope of a Stephen Minister Caregiver, they are referred to professional caregivers.
What kind of care is offered from a Stephen Minister?
CRISIS CARE – For people experiencing change(s) that significantly challenge their ability to cope.
FOLLOW-UP CARE – After the crisis event.
CHRONIC CARE – For a person whose situation is unlikely to change.
PREVENTIVE CARE – Providing care before a crisis occurs.
SUPPORTIVE CARE – Care for the caregiver.
How can I find out more about this ministry?
Call the church office at 608-949-9445, or reach out to a pastor or deacon. Stephen Minister Caregivers don't replace the care of pastors and deacons. They carry it a step further.
---
---
Want to receive an email notification when the weekly Connector is updated? Sign up here!