Shop for the Giving Trees on Black Friday!
Doing some shopping today? Remember the Giving Trees! The FPC Mission Team is continuing to collect donations this Christmas for groups that help those in need. Due to COVID, wrapped Christmas gifts cannot be distributed to families. For this reason, we will be accepting monetary donations or store gift cards for each group's tree. You can click the link below to sign up for a specific gift. Or you can make a donation on your own and mail or deliver it to the church.
All donations should be marked Attention Mission Team and can be mailed or dropped off at the church at the mailbox near the church office entrance. Any amount is appreciated. If you'd like your donation to go towards a specific group's tree, make a note of it on your donation. All Giving Tree donations should be made by Monday, December 7.
Here are the groups we are supporting this year:
WEB Tree – The Waunakee Ecumenical Board has 156 families and 350 children in Waunakee that need help with food and gifts. Monetary donations only. No gift cards please. Checks can be mailed directly to WEB at P.O. Box 143.
Soar Kenya Academy Tree – After recently opening their doors to 4th-8th graders they have found that, due to COVID job loss, many families are not able to pay tuition. Hoping that that this is just a temporary situation, they are desperately in need of funds to pay for meals for students and local elderly community. Monetary donations only. No gift cards please.
Operation Christmas Angel Tree – for the Children of active duty men and women serving outside of the Country. Walmart gift cards requested.
Shelter from the Storm Ministry Tree – This group will purchase gifts for the children of the single homeless mothers that are being served in their facility. Walmart gift cards requested.
*NEW THIS YEAR* Sock Tree – To benefit the homeless or needy men, women, and children of: Friends of State Street, The Beacon, Porchlight, and Waunakee Neighborhood Connection. We are collecting bagged socks at the church main entrance on Sundays. Or arrangements can be made to pick up the socks at your home.
Our FPC family is always so generous during the Giving Tree season! Thank you in advance for financially supporting these worthy groups in our community. Have any questions? Email Glenn Myers, FPC Mission Elder.
Advent Begins This Weekend

The first of the Advent Series, The Best Gifts of Christmas, is this weekend! The focus of the first message is The Gift of Forgiveness. Join us online each weekend for this special Advent Series.
---
Children's Nativity Service
Each year FPC Children's Ministry puts on a Children's Nativity Service. We will not be able to join together to perform this year but we have an alternative way to still perform together (virtually). The combined performance will go out to the congregation on December 20th.
We are going to share the story of Jesus' birth this year using the book What God Wants for Christmas.
There are several ways to participate:
Be one of 7 families to interact with each 'gift'. You will read a part of the book and open a gift. These gifts contain the pieces to complete the Nativity Scene. We will arrange a time to get you the gift to open.
Record a child playing an instrument or singing a Christmas carol to add music to our service.
Offer to narrate a short paragraph
Send a picture of all the children in your house for the ending! (no video recording required!)
---
Drive Thru Blessing and Prayer
Sundays throughout Advent from 10-10:30am.
Drive to FPC on Sunday mornings during Advent to receive a Blessing and or to make a specific prayer request. You can stay in your car and Christa Schmeelk, FPC Director of Family Ministry, will be masked and will pray for you under the canopy by the front doors of the church.
---
Begin your week with Virtual Meditation of Hope
Sundays during Advent at 4pm and 7pm
On Nov. 29, Dec. 6, Dec 13, or Dec 20, spend 15 minutes in a personal time of meditation with Christa Schmeelk, Director of Family Ministry, using Breath prayer. Choose the time you want to participate, connect through the zoom link, find a comfortable seated position, and ready to breathe deeply and let scripture and prayer fill you up.
Sundays at 4pm:
Zoom Meeting ID: 869 5607 0450
Passcode: fpc
Sundays at 7pm:
Zoom Meeting ID: 847 2776 6251
Passcode: fpc
or use the links below:
---
Pastor's Benevolence Fund
Are you a member or friend of FPC? Are you in financial distress? Can't make a car payment? Not sure you will be able to pay your rent or your next mortgage payment? Having a tough time buying groceries? Are you afraid you won't be able to buy food and also pay for your medicine? Our church might be able to help you. The Session has given me a "Pastor's Benevolence Fund" which I have used for years to assist some of our members and/or church families when they have faced some immediate need or acute financial distress. This help is confidential, comes from the giving of God's people to FPC, and does not have to be paid back. If you could use some temporary assistance give me a call. God loves you, and so do we. – Pastor Kirk
---
---
A Picture of Christmas Past…
Check out this throw back Christmas picture! It was taken at the little white church on Fish St in the mid 1980's. The person that submitted this photo is angel on the far left. Can you guess who it is? Hint… she's very involved in children's ministry. *wink!* And how about a bonus question: do you know where the cross in the picture resides now at our current church?
---
---
---
Share the peace and promise of Christmas with Our Daily Bread!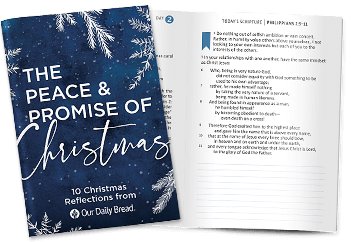 The Peace & Promise of Christmas, 10 Christmas Reflections from Our Daily Bread have been delivered. They are in a plastic tote at the front of the church under the portico on the right side as you face the church. Stop by anytime to pick one up for yourself, your friend or a neighbor, and discover how you can experience the peace and promise of Christmas!
Also available in the bin are the new December/January issues. Grab them both today.
---
Video Devotional: I'm Not Like Those Other People
Reverend Jeff Quinto, Executive Director of Bethel Series and FPC member shares this devotional: "I'm Not Like Those Other People," based on Luke 18:9-14.
---
For Your Calendar:

---
Stephen Ministry
We know the COVID-19 pandemic has impacted everyone—raising the level of fear, stress, and anxiety for people all over the world and underscoring the importance of caring ministry. As a Stephen Ministry congregation, we equip and empower lay caregivers to provide high-quality, confidential, Christ-centered care. Our commitment to this ministry is extremely important during these uncertain times.
If you, or someone you know, could benefit from this ministry, contact the church office.
---
Want to receive an email notification when the weekly Connector is updated? Sign up here!