Sack Meals For Madison's Homeless
Earlier this week, the Cable family (Julie, Brett, Carsten – 8, and Isaac – 6) made 30 meals for the Friends of State Street Families organization, an outreach for Madison's homeless population. The Cables made sandwiches then bagged them with mandarins, granola bars, string cheese, fruit snacks, and water. After meals were packaged, they were brought to the drop-off location on East Washington for the organization's delivery team to distribute the meals to unsheltered people.
Brett shared that the boys each get $3 allowance a week, with $1 going into a Share bank. Isaac spent some of his Share money on buying the string cheese and granola bars. Carsten wanted to save his Share money for the next time – that way he could make sure that the family builds lunches again!
While packing up the lunches Isaac said, "I'm really happy we're doing this." And both boys wanted to have the same meal for their own lunch.
The newly re-launched–on hold during the pandemic–sack meal program is called Meal Train. If you are interested in volunteering for this outreach from Friends of State Street Families, you can sign up at the link below. Be sure to send your pictures of your prep work to be shared in upcoming Connectors!
---
---
Shepherding the Flock
June Session Meeting Summary
Submitted by Dianne Larson, Clerk of Session
Session held our first in-person regular Session meeting since February 2020. We spent some time answering a connecting question on getting to know each other better before beginning our decision-making. Discussion and decisions of the evening include:
Beginning September 7, the church office will be open from 10-4 Monday through Thursday.
Outdoor worship is scheduled to end on Sunday, August 29 when we plan to return to worship in the sanctuary.
Indoor worship on September 5 will be at 9 am and will be the same blended service as the virtual service.
Beginning on Sunday, September 12, we plan to have two indoor services, much like we had before COVID. 8:45 will be a blended service and 10:45 will be a contemporary service. Virtual service taping will continue on Wednesdays as we plan to continue to offer Sunday worship online.
Fellowship treats and drinks will return indoors when worship is moved indoors.
Pastor Kirk advised us of his retirement plan, now that he's 65. We discussed his plan and the most likely pathway of pastoral succession. Executive Presbyter The Rev. Chaz Ruark from our Presbytery will attend our August Session meeting to answer Elder's questions regarding a pastor's retirement and a succession plan.
FPC's finances are looking good, but as we reopen more our expenses will go up. Please continue to meet or catch up on your pledge or your giving for God's work through FPC. Everyone's gift matters!
A lot of great ideas for programs and events are being planned. Stay tuned.
---
A Devotion on Change
At the FPC Staff meeting on July 20, 2021. Bram Groeneveld presented a devotion that he and Nancy put together from multiple online devotions and then gave it a personal touch. It was meaningful to the staff and hopefully, you will find comfort and encouragement in these words as well!
In a world full of Facebook, Instagram, Photoshop, and instant gratification, it's easy to buy the lie that if we don't like something, we can and should change it. If we don't like our physical appearance, there's surgery to fix it. If we don't like our relationship status, there is a dating service to change that. If we don't like our circumstances, we can buy, charm, run or fight our way out of it. Then came Covid. Alpha, Beta, and Delta mutations.
The world we knew changed forever.
But what if the circumstances that we find ourselves in are exactly where God wants us to be? Hmm …let me repeat that. What if the circumstances that we find ourselves in are exactly where God wants us to be?
We are called to live the life we are given. Each one of us has unique value, insight, and experience God wants to work through to share the good news about Jesus. When we find ourselves in unchartered territory and our normal way of praying doesn't change our circumstances, maybe we need to change our prayer!
Instead of focusing on finding a way out, ask God for a change of perspective about the situation we're in and thank Him for his protection, love, and guidance. Be grateful…then, watch and see how God works through your circumstances.
As you navigate through unchartered territory, lean into God and not into your own understanding.
The good news in all of this, is that God doesn't change!
acronym for the word CHANGES:
Christ
Has
A
New
Gift
Every
Second
---

---
WEEKLY ANNOUNCEMENTS | July 25, 2021
The Adult Nuture and Spiritual Growth committee is looking for new members
Elder Scott Legwold is encouraging anyone in the FPC congregation to consider joining the committee for Adult Nurture and Spiritual Growth. Exciting opportunities are in the works for this area of ministry. Get involved today! Interested individuals can email Scott directly at: scott.legwold@gmail.com.
Ongoing opportunities for serving at FPC
Communications Volunteer: Are you tech savvy and interested in learning aspects of updating the FPC website and other entry-level tasks of communications at FPC? We are looking for someone high-school age or older for this internship-like position.
Camera Operators: Our online service video team is looking to add camera operators to our Wednesday morning recording sessions. This volunteer position requires experience with different camera settings and lighting situations, and some production experience would be helpful.
If you are interested in either of these opportunities, send an email to communications@myfpc.org to learn more.
A visitation reminder…
Under current restrictions, hospitals are allowing patients to receive only 1 visitor each day (except clergy, who can go anytime). Before visiting the hospital, check with the family to verify that you can be that day's visitor. Watch upcoming Connectors for updates to these hospital visitation rules.
No Regrets Men's Conference
February 5, 2022 | Milwaukee, WI
The No Regrets Men's Conference is excited to be opening the doors of Elmbrook Church, on February 5, 2022, welcoming speakers to the stage and you to the seats. There will be in-person and virtual experience offerings.
The theme for 2022 is PRESS ON. "I press on toward the goal to win the prize for which God has called me heavenward in Christ Jesus" Philippians 3:14. What a timely thought for today's realities.
Registration for the No Regrets Men's Conference 2022 is currently live. The conference website is open for ticket sales and complete conference details. Get more information at noregretsconference.org
Celebrating FPC Births
Baby congratulations are due to TWO FPC families: Katie and Damian Jackson welcomed Savi Lee Jackson on June 28, 2021. Savi joins big sisters, Maddy and Ruby. Grandparents are Robin Whitty Novotny and Chris Novotny. And Karosi & Funmi Abraham are proud parents to son number three, Eden. Eden means "delight"–he was born on Sunday, July 18, 2021. His big brothers are Elijah & Ezra.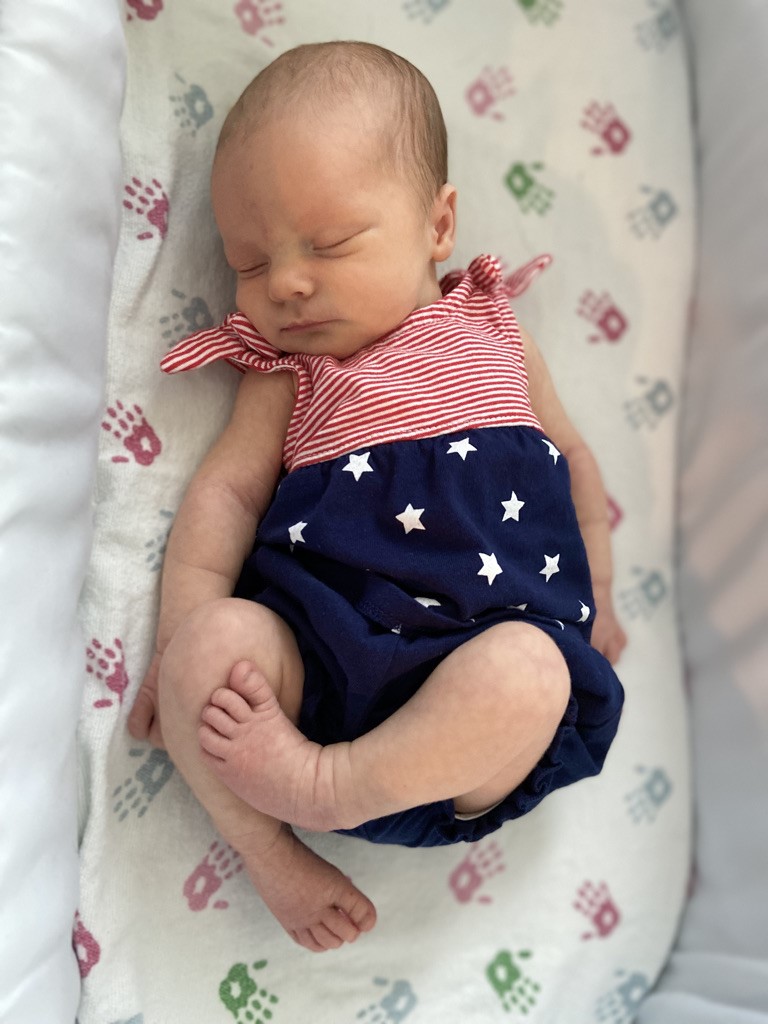 Deepest Sympathies
Our deepest sympathies to the family of Lillian Bakke who passed away at the age of 99 on July 13 at Waunakee Manor. Prayers for comfort and assurance for Lil's family. Pastor Kirk held a private service at Roselawn Cemetery with the family on Wednesday.
Stephen Ministry at FPC: Providing God's Care to Hurting People
What is this ministry about?
Extensively trained and supervised Stephen Minister Caregivers provide high-quality, one-on-one confidential Christian care to anyone in need. They provide weekly visits and ongoing support as long as the care receiver needs. Should the care receiver have needs that are beyond the scope of a Stephen Minister Caregiver, they are referred to professional caregivers.
What kind of care is offered from a Stephen Minister?
CRISIS CARE – For people experiencing change(s) that significantly challenge their ability to cope.
FOLLOW-UP CARE – After the crisis event.
CHRONIC CARE – For a person whose situation is unlikely to change.
PREVENTIVE CARE – Providing care before a crisis occurs.
SUPPORTIVE CARE – Care for the caregiver.
How can I find out more about this ministry?
Call the church office at 608-949-9445, or reach out to a pastor or deacon. Stephen Minister Caregivers don't replace the care of pastors and deacons. They carry it a step further.
---
Want to receive an email notification when the weekly Connector is updated? Sign up here!