New Horizons Personal Updates
A note went out to the New Horizons group earlier this week asking for summer updates. Here are some of updates that group members agreed to share with all of the FPC family:
Update from Jerry and Pat Ronspiez
Pat has made 4 quilts this summer and keeps busy playing the Organ, Piano, and Accordion. Jerry has been working on his train boards. We are trying to social distance and keep safe. Pat is going in for Cancer Treatments once a month now. The doctors are evaluating the best cancer treatment methods. Jerry had his second Cataract Surgery on July 2nd and the results are very good. Pat and Jerry say: "We have also been cleaning out things and fixing things up in the house. We have been doing a lot of yard work.
Also, we send a special thanks to about 40 people who surprised us on our 45th Wedding Anniversary. It is called a 'Driveway Party' and they all came to our house to celebrate with cards and singing (from the sidewalk or street) which made our day very special.
Here is a picture of the beautiful Carpenter Star Wall Hanging quilt which Pat made. It was custom quilted and looks fantastic. If you can, right click to save this picture. Then open the picture and zoom into it to see the details of the custom sewing.
---
Update from Bob and Lynda Bennin
Thank you for staying in touch with all of us! Bob and I are doing well. Bob has been off chemo for several months and his recent blood test was good. My knee continues to get better, but clearly not normal yet, although not much pain. We feel blessed to have our health in this time of uncertainty. We did drive out to Bismarck, ND the first week of June to see our daughter and family. Over 12 hours makes for a very long day! They have had very few cases of covid19, so most things were open. We were still very cautious. We've had to cancel our plans for a family reunion in Minneapolis next month.
We are also praying for our country this July 4th – for love of our neighbors and a return of a healthy America. Stay well and God Bless!
---
Update from Charlotte Riddle:
I am well and hunkered, keeping busy with Bridge online, reading, an occasional chore and an infrequent attempt to improve my mind. I am watching "Hamilton" on Disney+ this weekend, and following a series of lectures by a "Nutrition Anthropologist" on the origins and evolution of food and diet. I had my backyard torn up for some drainage improvements, so currently praying for rain so I don't have to water in this heat. I do get and follow all church communications and appreciate so much how we are able to keep somewhat in touch. I'm enjoying online church services – and may find it hard to get up early for 1st service when that world opens up again! God bless and keep each of you. Be well, relatively sane and God Bless America!
---
-CORRECTION-
Update from Chuck and Anne Frihart:
On June 13 we celebrated our 50th anniversary. The celebration was quite low-key — would have been a big family picnic if not for Corona.  Our daughter Becky and her family (husband Dan, daughters Alex (9) and Mallory (6)) came over from Mequon.  Alex counted 49 frogs or tadpoles in the pond, Becky and I examined the gardens, Mallory refused to demonstrate her Tae Kwon Do moves ("too embarrassing"), and Dan cooked chicken on the wood fire.  Chuck and I relaxed and enjoyed their visit.  Maybe we'll celebrate more next year.
---
What are YOU doing at home?
We want to see what's going on at your house! Please send us pictures or video links so our church family can feel connected when we can't physically be together. Send your photos, links of your 1-2 minute video, or stories to communications@myfpc.org so we can share it in an upcoming Connector. Let's be intentional about Living Faith Together!
---

---
Reopening the Church
Weekly Update from Your Site Reopening Action Team
As you likely saw in the Connector last week, Session has decided that we will not be holding any onsite worship services until the Dane County Public Health Department allows outdoor mass gatherings of at least 100 people. Even so, your Site Reopening Action Team is continuing to meet weekly so that we are fully prepared for reopening when Session determines the timing to be appropriate.
Our team has nearly completed the plans for holding both indoor and outdoor worship services, and we plan to take them to Session for approval at their July Session meeting. We anticipate our first worship service onsite will be outdoors, depending on the timing of when Session deems it safe for us to reopen.
If this plan is approved by Session, our work will then shift to other areas of reopening, such as weddings, Adult Ministry, Children's Ministry, Youth Ministry, small groups, and much more. In fact, we anticipate beginning our work on these areas this coming week, with a plan to take these additional areas to Session for approval at their August Session meeting.
Please continue to watch your Connector for updates – we will have an update for you each week until our plan is fully approved. In the meantime, continue to watch for the virtual worship services each week until the time comes when we can safely join in worship onsite at FPC!
Site Reopening Action Team
RJ Binau, Elder of Buildings & Grounds
Steve Cable, Chair
Nancy Groeneveld, Director of Music & Worship Arts
Kirk Morledge, Senior Pastor
Liz Weller, Elder of Worship & Music
---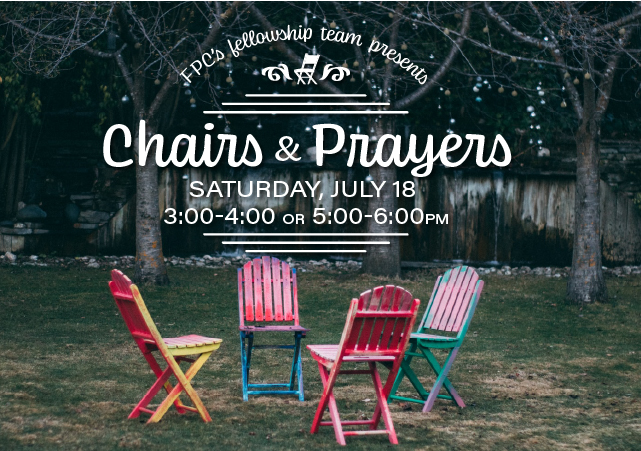 "And let us consider how to stir up one another to love and good works, not neglecting to meet together, as is the habit of some, but encouraging one another, and all the more as you see the Day drawing near."

Hebrews 10:24-25
Our world today is in great need of prayer – and we need each other! "Chairs & Prayers" is an opportunity to safely visit outdoors with friends and family from church. Not only does this help alleviate the social isolation some of us have been feeling, but it gives us a chance to pray together for our community, our families, our leaders and our church.
Please join us on Saturday, July 18 for our second Chairs & Prayers event. Please bring your own chairs, and we will meet under the shelter in our beautiful outdoor family space behind FPC. We'll maintain social distancing while visiting with each other, and will open and close the gathering with prayer. Due to the new Dane county restrictions on social gatherings, we are offering two time slots: 3-4pm or 5-6pm. There is a limit of 25 people per hour. We hope to see you there!
---
Catch up on the Children's Moment
Did you miss last week's Children's Moment in the service? Or maybe you'd like to watch it again? We will now be making each week's Children's moment available in it's own separate video in the Connector. Enjoy!
---
A note from Pastor Kirk
Howdy Friends!
I've been receiving emails from folks telling me they really appreciated my message of last Sunday, July 5th: "Can You Love Those You Disagree With?" One woman wrote, "I'm sure everyone thought you were speaking directly to them." If you missed the message—one for these challenging times— you can find it in the link below. Or you can always find past services at the "Watch the Sunday Service" under the Connect tab on the homepage.
Hope it blesses you. -Pastor Kirk

---
Book Club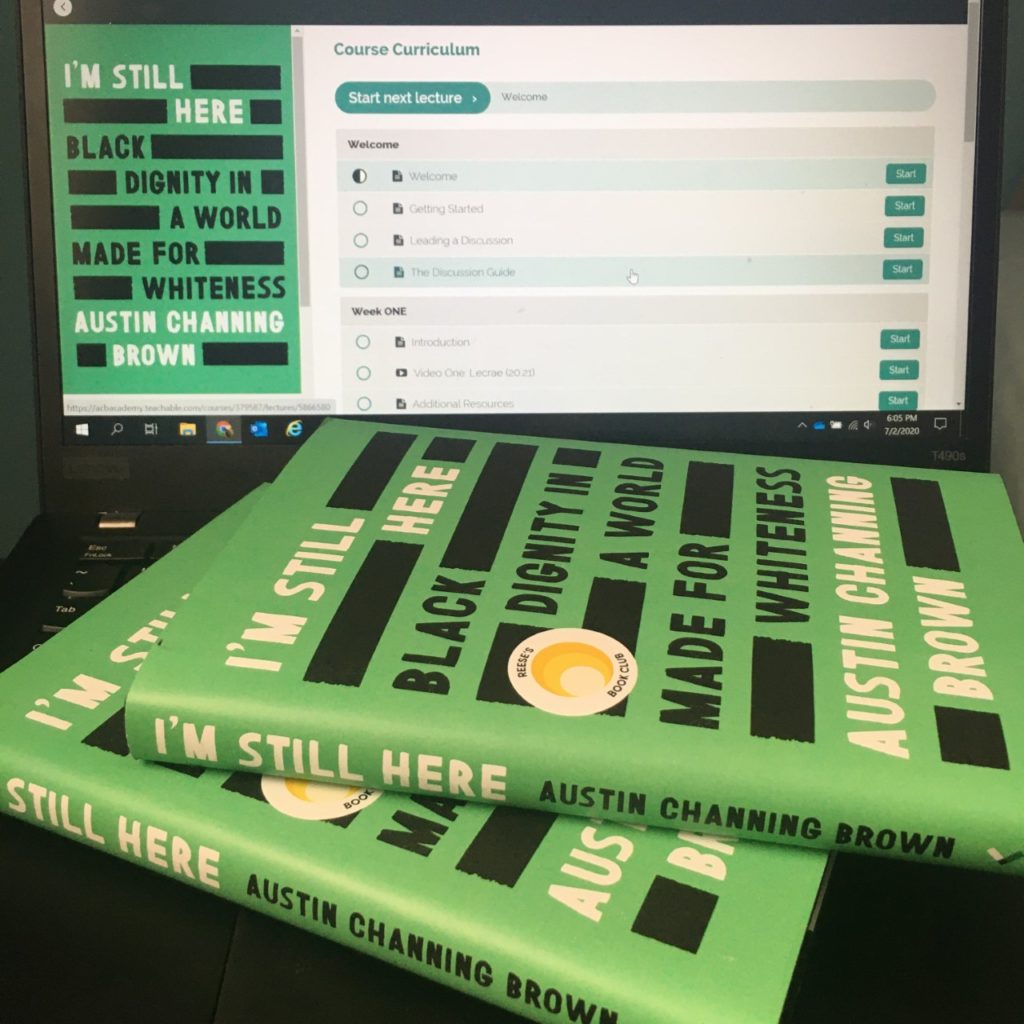 Book club Invitation from First Presbyterian Church on Vimeo.
Join Christa Schmeelk, Director of Family Ministries, in reading this book and an opportunity to talk about racism from a faith perspective. Email Christa with any questions and to let her know you'd like to be part of the group.
---
For Your Calendar:


---
Video Devotional: "Fear Not For I Am With You"
Bethel Series Executive Director and FPC member, Rev. Jeff Quinto's devotion, "Fear Not For I Am With You" is based on Isaiah 41:10 and 2 Timothy 1:7.
---
Stephen Ministry
We know the COVID-19 pandemic has impacted everyone—raising the level of fear, stress, and anxiety for people all over the world and underscoring the importance of caring ministry. As a Stephen Ministry congregation, we equip and empower lay caregivers to provide high-quality, confidential, Christ-centered care. Our commitment to this ministry is extrememly important during these uncertain times.
If you, or someone you know, could benefit from this ministry, contact the church office.
---
Want to receive an email notification when the weekly Connector is updated? Sign up here!