Kirk's Retirement
Last week, Kirk sent out an email announcing his upcoming retirement. Here's what he wrote:
Wow! When I arrived here to become your pastor I was only 34 years old. Or 34 years "young," maybe I should say. Green as grass. What did I know about becoming the solo pastor of a small church of about 90 members in a small town? I had never done that before. But I felt called by the Lord.

The year was 1990! At that time The First Presbyterian Church of Waunakee had been meeting since 1878 in a sweet little "chapel" type building just off Main Street in downtown Waunakee. The sanctuary had seats for about 65 folks. The church had no parking lot. Waunakee was different then. No traffic, no roundabouts, no stoplights, no Walgreens, no Taco Bell, no KwikTrips.

I was single. No kids. I didn't even have a dog. Now I'm married with two grown sons and a puppy! Our older son has a wife in the Navy and Faith and I have two beautiful granddaughters.
How did I get to be 65? I'm not sure how that happened. But it did, in January. That's a mile-marker where many Pastors decide to retire. The idea crossed my mind but I realized right away I would not feel right leaving a church during a pandemic.

So Faith and I talked and we are looking at this next June as the time for me to retire from FPC. Lord willing, I will have reached my 66th year and served this congregation for 32 years. This past Monday evening I informed the Session of my plan to depart about 11 months from now.

It can take one to two years for a Presbyterian Church to find a new pastor. My announcement to the Session on Monday will give your 12 Elders a bit of a heads up and a chance to look ahead.

The first church member I called with this news was a long-time member named Mary Currie, who chaired the Search Committee that invited me to come to FPC Waunakee 3 decades ago. She is still very active in our church and doesn't look a day older to me.

Can you do me a favor? Let's not start doing any goodbye stuff right now–I'm not looking forward to that part at all. We still have time together to share in the work of our Lord.

Oh, and I can't sign off here without saying this: I love you all–in Christ, of course. But I can go a step further. I LIKE you all! There are pastors who can't say that. But I'm truly thankful for each of you. You have each blessed me or Faith in some way. I'm grateful to God for each one of you. And for the honor and privilege, He has granted me to serve as…
Your Pastor.

Love, Kirk
---

---
SOMETHING NEW IN JOHN KNOX PRESBYTERY
Presbytery Council has approved the formation of a Generosity Task Force. Their work will focus on two related areas: generosity as a spiritual discipline and the practice of year-round stewardship.
For the former, Christian spiritual disciplines that are practiced regularly become habits. For the latter, despite what it may sound like, year-round stewardship is NOT about frequently asking for money. It's telling your donors the ministry their dollars are enabling your church to do. It's expressing gratitude for those financial contributions. And it's inviting current and potential donors to support the good work your church is able to do…or could do in the future.
Happily, the presbytery churches are not beginning from scratch in either of these areas. Each congregation in John Knox Presbytery is already doing great things. The Generosity Task Force would like to serve as a clearinghouse for the wonderful ways churches are joining what God is doing in their communities. You are invited to share stories of your congregation's generosity with the task force and they will share the good news!
---
Upcoming Blood Drive
Masks are only required for those that are not fully vaccinated, or if there is a policy in place at the site that requires people to wear masks.
We are in Severe Shortage of blood so it's more important than ever to sign up to donate. Patients are in need!
To sign-up for an appointment click here, then choose the August 13 date. Or you can call 1-800-RED-CROSS.
---
Video Devotion: God Is Doing a Work in Our Time That You Wouldn't Believe
Reverend Jeff Quinto, Director of The Bethel Series and FPC member, shares a devotion based on Habakkuk 1:5. God is, indeed, doing a work in our time that you would not believe if told!
---

---
WEEKLY ANNOUNCEMENTS | August 1, 2021
Opportunities for serving at FPC:
The Adult Nuture and Spiritual Growth committee is looking for new members
Elder Scott Legwold is encouraging anyone in the FPC congregation to consider joining the committee for Adult Nurture and Spiritual Growth. Exciting opportunities are in the works for this area of ministry. Get involved today! Interested individuals can email Scott directly at: scott.legwold@gmail.com.
Communications Volunteer:
Are you tech savvy and interested in learning aspects of updating the FPC website and other entry-level tasks of communications at FPC? We are looking for someone high-school age or older for this internship-like position.
Camera Operators:
Our online service video team is looking to add camera operators to our Wednesday morning recording sessions. This volunteer position requires experience with different camera settings and lighting situations, and some production experience would be helpful.
If you are interested in either of these opportunities, send an email to communications@myfpc.org to learn more.
A visitation reminder…
Under current restrictions, hospitals are allowing patients to receive only 1 visitor each day (except clergy, who can go anytime). Before visiting the hospital, check with the family to verify that you can be that day's visitor. Watch upcoming Connectors for updates to these hospital visitation rules.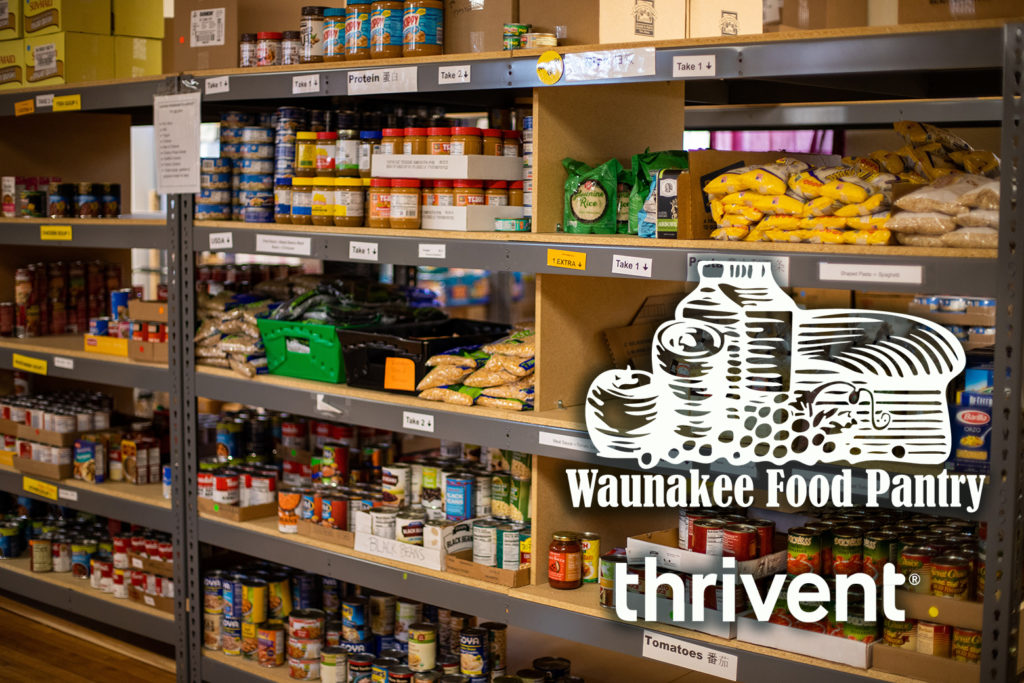 Thrivent "Cans" Hunger Food Drive
Monday, August 2 | 5 – 7:30 pm
The local Thrivent Member Network is teaming up with the Waunakee Food Pantry for a food drive. For every non-perishable food item brought to the food drive, $3 will be donated–that equals 2 full meals for a family!
Drop your canned/boxed dinner, brownie mix, crackers, body wash, deodorant, or similar items at Waunakee Food Pantry. The pantry is located at 806 S. Division Street in Waunakee.
Not familiar with Thrivent? They are a membership-owned, holistic financial services organization, dedicated to serving the needs of their clients. Thrivent is driven by a higher purpose and they are committed to providing financial advice, investments, insurance, banking, and generosity programs to help people make the most of all they've been given.
New Greeters Information Meeting
Monday, August 9 6:00 p.m | Fellowship Hall
Our Greeting Ministry is looking for new members to join the team. The Greeting Ministry holds a very important place in our church to welcome our members and guests to our worship services. If you are looking for a way to meet church members, warmly welcome visitors to the FPC family, or simply get involved in an easy way, the Greeting Ministry may be for you.
Greeting requires a warm smile and small periodic commitment to arrive shortly before the start of our worship services. If you are interested in learning more, please contact Wes Ray or Rebekah Temple. We also are hosting an interest meeting on Monday, August 9, at 6:00 p.m. in FPC's Fellowship Hall. Please come to learn more and enjoy some of Wes's famous barbeque pulled pork. All are welcome, but we ask for you to RSVP to Rebekah at rebekah.temple@gmail.com.
Deepest Sympathies
Our deepest sympathies to the family of Maria Falkner who passed away a year ago on August 7, 2020. A memorial service and celebration of life will be held at FPC's Chapel on Saturday, August 7 at 1 pm. Pastor Ben will be presiding over the service. Prayers for comfort and assurance for Maria's daughter, Delaney, and her sister, Milissa Statz, and family. A small reception will be held in the Gathering Place after the service.
Stephen Ministry at FPC: Providing God's Care to Hurting People
What is this ministry about?
Extensively trained and supervised Stephen Minister Caregivers provide high-quality, one-on-one confidential Christian care to anyone in need. They provide weekly visits and ongoing support as long as the care receiver needs. Should the care receiver have needs that are beyond the scope of a Stephen Minister Caregiver, they are referred to professional caregivers.
What kind of care is offered from a Stephen Minister?
CRISIS CARE – For people experiencing change(s) that significantly challenge their ability to cope.
FOLLOW-UP CARE – After the crisis event.
CHRONIC CARE – For a person whose situation is unlikely to change.
PREVENTIVE CARE – Providing care before a crisis occurs.
SUPPORTIVE CARE – Care for the caregiver.
How can I find out more about this ministry?
Call the church office at 608-949-9445, or reach out to a pastor or deacon. Stephen Minister Caregivers don't replace the care of pastors and deacons. They carry it a step further.
---
Want to receive an email notification when the weekly Connector is updated? Sign up here!