Heading into Holy Week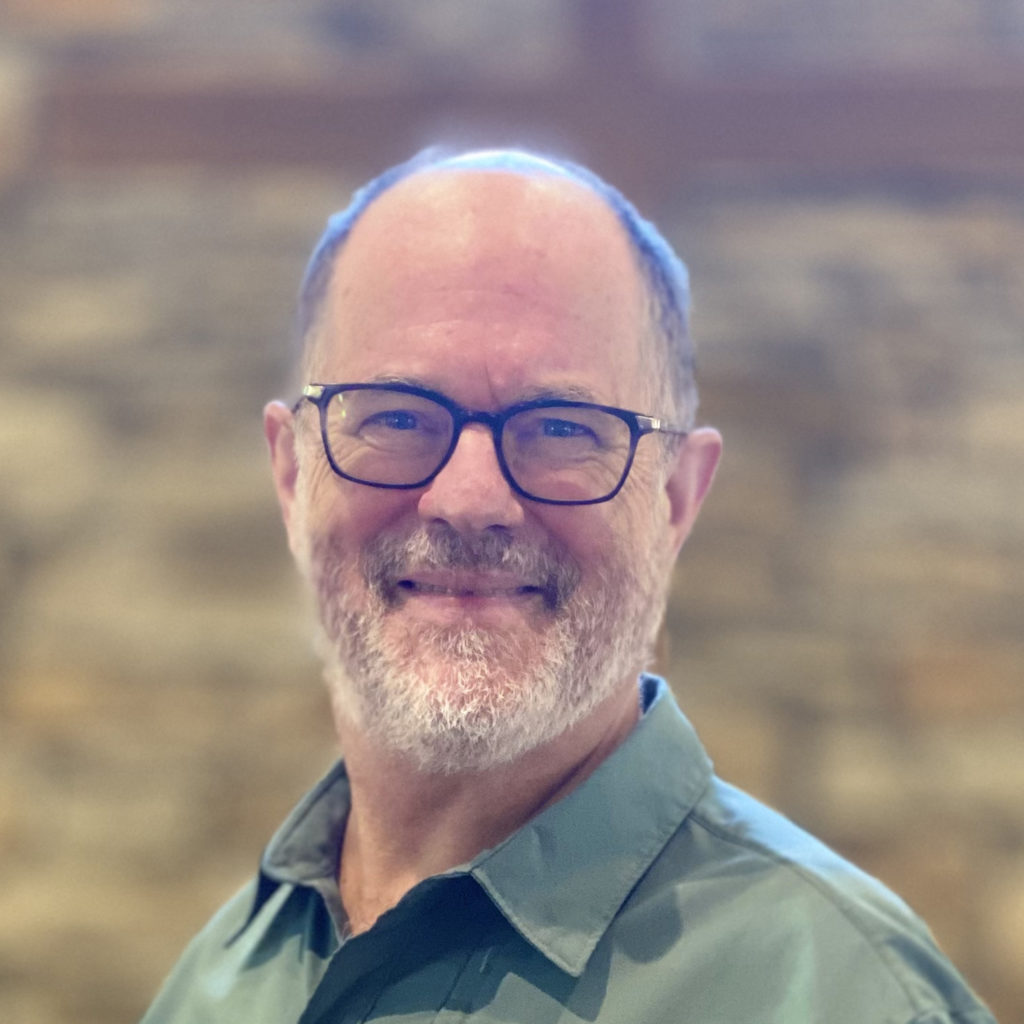 This Sunday is Palm Sunday- the beginning of Holy Week.
As I was growing up, I never paid much attention to Holy Week.
We would always take a trip down to Peoria to visit my grandparents.
When I was a grade schooler, Easter Eggs and candy highlighted those trips.
As I entered my 20's, my appreciation for Holy Week grew. I began to read the Gospels and realize how hard it must have been for Jesus to travel to Jerusalem, to speak so publicly garnering much adulation and such hostility. As the week wore on, might he have felt the hostility grow and see the adulation fade? Knowing his death is imminent, he makes time with his cohort of disciples- sharing bread and cup- before being betrayed, denied, arrested, interrogated by both the religious powers as well as the political establishment, given a death sentence, cruelly treated, mocked, and forced to carry the instrument of his death through Jerusalem. He is killed not by lethal injection, nor by electrocution, but by being hung on a cross in such a way that he finally dies by suffocation- a lot like being lynched.
Each year I walk with Jesus through this week and ruminate on what he suffered.
More and more, I hold him, me, us and our violent crucified world in my heart. I grow more compassionate for myself, our church and those to whom we minister- our sisters and brothers who lack the resources we have been given.
This Palm Sunday. we will join in the celebration of Jesus' triumphal entrance into Jerusalem. At the end of the service, we will hear the text of Matthew's Passion read and realize just exactly how far God went to show us love- unmerited grace.
On Holy Thursday, we will gather in the Chapel to remember the last meal that Jesus shared with the disciples. It will be a quiet, interactive worship service filled with the mystery of Jesus' Presence in the breaking of bread and in the sharing of the cup. We will sing a simple psalm at the end of that service.
On Good Friday, the church will be open from 12 noon until 3pm. Individually we will be invited to reflect on the crucifixion and death of Jesus using a guidebook for 7 stations that will be set up in the Sanctuary. Pastor Ben, Christa and I will be present in case anyone wants to talk with us.
I know its easy to go from the triumphal Palm Sunday entrance of Jesus to the joyful triumph of the resurrection on Easter Sunday. We can choose to do that.
I did it for years, but I missed out on the wondrous love God has for us when we make the journey with Jesus through Holy Week. As one way to ponder this holy week, might we read one of the passion texts each day? Out loud?
(Matthew 26:1- 27:66, Mark 14:12- 15:47, Luke 22:7- 23:56, John 18:1-19:42)
Join me as we embrace the richness and wonder of Holy Thursday and the rawness of Good Friday. When we do this, I have found that Easter Sunday is so much more meaningful than it has ever been. "What wondrous love is this? Indeed.
Peace,
Pastor Glen
---
---
---
Thursday, April 6 at 6 PM – Holy Thursday Worship Service
This coming Thursday April 6th at 6pm, there will be a Holy Thursday Worship Service in the Chapel. More info here.
---
---
---
Friday, April 7 from Noon – 3 PM – Journey to the Cross
This coming Friday, April 7th is Good Friday, the church will be open between the hours of 12 noon and 3pm for an individual worship experience. More info here.
---
---
---
---
---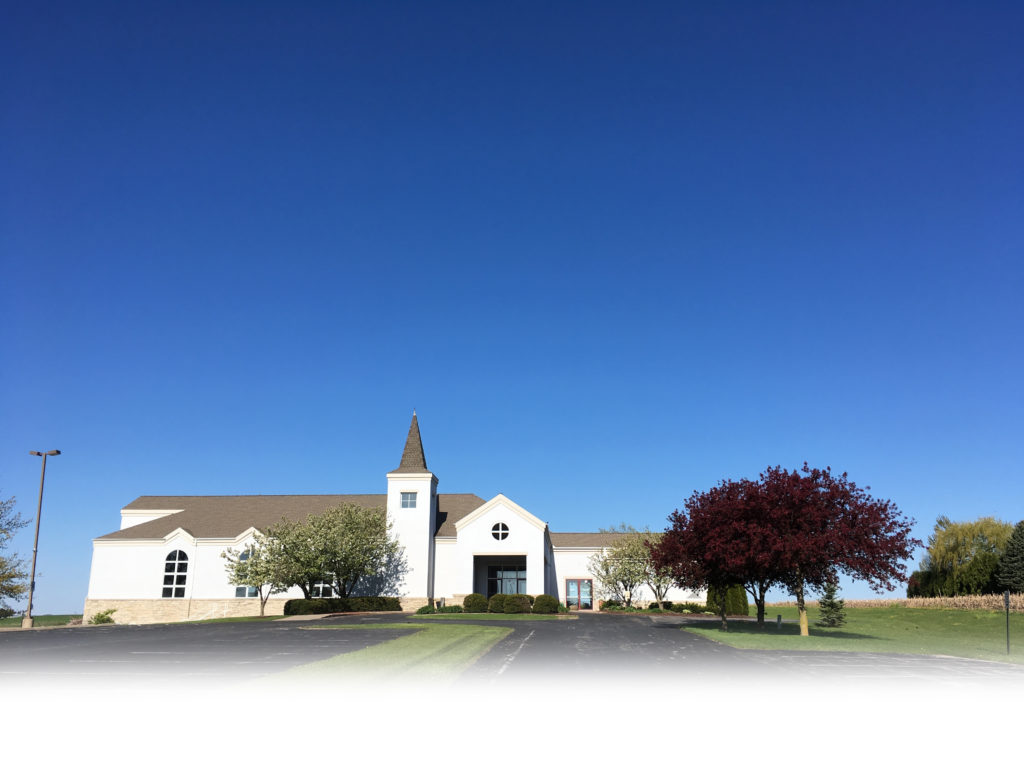 We exist as a congregation to know Jesus Christ and to make Him known:
To proclaim the Good News of Jesus Christ so all may come to know and love Him;
To nurture His people in joyful faith, fellowship, and commitment; and
To demonstrate His way of love in service to the world.
We use the Connector to share news of the coming week and beyond, the activities that involve a wide range of ages and interests at FPC.
---
Back to the top
---
News and Announcements
---
Getting Busy With the Nominating Committee
Now that we have your attention, let's talk about your 2022-23 FPC Nominating Committee!
Four at-large members of the Nominating Committee are elected by the congregation for one-year terms. Each year Session and Deacons also provide two of their members to aid in the Committee's work.
For 2022-23 your Nominating Committee includes (please hold all applause until the last name is read):
Linda Argue (at-large)
Barb Cash (at-large)
Kate Dietry (Deacon)
Anne Frihart (at-large)
Sue Gade (at-large)
Scott Legwold (Session)
Eileen Mathwig (Deacon)
Alan Roberts (Session)
The Nominating Committee will be busier than the March Madness Selection Committee over the next two months, filling 18 leadership positions, the most work for this committee in three decades. The slate to be filled includes:
– Pastoral Nominating Committee (PNC): 7 members
– Session: 5 members
o Personnel Elder
o Adult Nurture Elder
o Student Ministries Elder
o Stewardship Elder
o Fellowship Elder
– Deacons: 2 members
– 2023-24 Nominating Committee: 4 at-large members.
The Nominating Committee will be meeting weekly, prayerfully considering our member's gifts, enthusiasm and fit for the leadership roles of our church. As the Spirit leads the Committee towards outstanding candidates, Committee members will meet in pairs in person with potential nominees to explain each leadership role and encourage the candidate's prayerful consideration of the nomination.
If you have any questions about the process please contact any one of us. Please also pray for discernment, strength and a winning attitude as your Nominating Committee identifies and nurtures leaders who will take FPC to our next, glorious phase of Christ's work.
– Alan Roberts for the Nominating Committee
---
MIF Update
We are about halfway through our time of collecting surveys. So far, we have received 116 completed surveys. Thanks to those who have completed the survey, and thanks in advance to those who will complete it soon!
This week we learned that some folks have encountered difficulties in completing the online survey.
Chris Drake checked this out and learned that if you are completing the survey with an email other than Gmail, you will need to complete the survey without exiting so that your responses are saved. If that will be difficult for you, please fill out the survey on paper. There are paper copies available in the Church lobby, and a basket for completed paper surveys.
Remember the GEMS gatherings? We repeatedly heard that one of the strengths of FPC is the sense of community within the congregation. Being part of a community allows each us to have a voice in the future of that community. By completing the survey, your voice will be heard. The information gathered will be used to guide the direction of FPC and the qualities the search committee focuses on in the search for a new senior pastor. We want to hear from as many voices as possible!
Have a technical question about the survey? Please contact Chris Drake at 608-949-9445
Have other questions or concerns about the survey? Please contact Joan Cable at mamajocable@gmail.com, or reach out to any of the MIF Team Members.
Thanks for your participation in this important process!
The MIF Team
---

January 2023
In January 2023, the Session discussed/approved the following items:
Pastor's Report:
· Baptized Sydney Magnus (young adult) on Christmas Eve. Three elders attended.
· Staff was taken out for a group lunch to celebrate the holidays and get to know each other better.
· An electrician was consulted about our lighting fixtures. We're going to need to move to LED fixtures as we aren't able to buy bulbs anymore for our current fixtures. We expect that to cost around $29,000. We hope to be able to phase the conversion.
· The MIF committee is up and running. Everyone that we asked to be on the committee has agreed to serve.
· FPC hosted a group of Presbyterian pastors for a recent meeting.
· Five people are currently signed up for Christ Care small group training.
· We are still taking sign-ups for Intro to Centering Prayer, which will be held at the church on Saturday, January 28. 14 people are currently signed up.
· Celebrating the addition of five new members and one transfer member. Brad and Julie Hofmaster are removed from FPC membership.
· Working with the personnel elder on new job descriptions for Christa and Patricia.
· Approved the baptism of Jacob Cushman and Ben Cushman.
· Ezrah Schmeelk, in order to be ordained, needs to be a church member at a Presbyterian church. Ezrah's road to ordination:
• Enrolled as an inquirer, request for Presbytery to take him under their wing. There are nine questions to answer for the Presbytery's Committee on Preparation for Ministry Form 1D.
• May become a candidate in one year
• Must complete ordination examinations
• Ezrah will need a liaison, a ruling elder, to help him discern his call. Ezrah will consider and pray about who would be a good match for him.
· Glen requested permission to complete Form 1D for the Presbytery, for Ezrah. Permission was granted.
· Approved acceptance of Ezrah Schmeelk as a member at FPC
Finance Report
· The general fund balance ended the year at a positive $88,000.
· For the 2023 budget, plan for 10% giving for missions from our general fund budget.
· The motion is based on strong giving and financials. 2022 giving vs pledged was 101.89%.
▪ General Fund YTD: Income $824,446.20, Expenses $821,728.39. Actual income vs. Expense +$2,717.81. Budgeted Income vs. Expense -$155,377.00.
Worship and Music:
· Approved an organ recital to be held in memory of Pat Ronspiez on March 19, 2023.
· Take a freewill offering at the recital. 10% of proceeds will be applied to our mission in a special fund and 90% will go to a local music school.
· Easter services will be held at 8:00 AM and 10:00 AM. There will be cake provided by the Fellowship committee after services. Easter this year is April 9.
Children's Ministry:
· Network 56 sold out of their craft bracelets and made $500.
· Planning a family bingo night for January 25.
Building and Grounds:
· Started work on fixing bathroom fixtures in the building. Also working to get damage repaired to the lower steps and railings on the south side of the building.
· Looking ahead, we will need to convert light fixtures in the buildings from incandescent to LED. Working on a plan for this, including expenses and ROI.
Personnel:
· Reviewed the framework for a new job description for Christa Schmeelk and Patricia Cooley.
· Approved the framework and allow work to continue on developing new job descriptions for these two positions. M/S/A unanimous
· Approved the stated supply contract for Pastor Ben Ehrets.
• Ben is a .75 FTE
• Contract provides for a 5% increase for 2023
• Ben's contract says that he will be at FPC three Sundays out of four
• The salary and other related expenses have already been approved in the budget
Stewardship:
We have $150,000 in pledges to be used toward the new parking lot. Some of the proceeds toward these pledges have arrived in chunks, and some are arriving in monthly payments. We'll wait until February or March before we do the next push for parking lot pledges.
Student Ministry
· Happy to report that the Guatemala fund-raising dinner planned for February 18 will be catered and paid for by a generous donation.
· Working with Natasha Lutes on a design/plan to update the youth space, including painting, new furniture, cabinets, new lighting, a dishwasher, etc. This can be phased in and expenses will be paid from the special fund for this purpose.
Adult Nurture and Spiritual Growth:
Continuing to work with Reverend Jeff Quinto to regenerate interest in the Bible Bethel series.
Mission:
May bring in mission speakers every other month
Reorganizing mission content on the FPC website
Received positive feedback on the December giving trees
Fellowship:
· Developing a six-month plan, including:
• Will provide cake and a photo booth with props for Easter
• Mother's Day pancake breakfast and possible end of school fire pit
• Donut breakfast
• Support organ recital and adult nurture speaker events
New Member Outreach:
May hold one more new member class before the end of the school year
Pastor Glen noted that Leah Durst-Lee and Lori Phelps will be in the new Connections Corner the next two Sundays. He also reminded us of the annual meeting that will take place in the sanctuary on January 29 immediately following the worship service.
February 2023
In February, the Session discussed/approved:
Report of the Clerk – 2022 Church Statistical Report – submitted and approved.
Report from the Deacons ​
Ben reported that miracle muffins are being distributed to people, the TLC team is distributing prayer shawls as needed, and it's been business as usual. They are also having prayer circles in the Chapel after church after some upcoming services.
Report from the Pastor​
• Centering Prayer has been continuing, with 16-24 participants.
• Have had 3 meetings with the MIF Committee.
• Christ Care group training is going well.
• Glen distributed an excerpt from "In This Mountain" by Jan Karon (Father Tim is Preaching – page 311) for the Session to read and discuss. The theme of this "In everything… give thanks." The key is IN everything, give thanks… Not FOR everything give thanks. Also discussed Theo Academy #4-6, with the Elders. It focused on Confessions, meaning of Christianity, the Trinity, Reformation.
• Sue Gade has informed Pastor Glen that she plans to retire in 2024.
Pastor's Moment ​
• Ezrah Schmeelk to be recommended by Session. Session reviewed the "Session Evaluation and Recommendation Regarding Enrollment as an Inquirer." Glen will submit this to Presbytery.
• MIF Committee would like to provide a light brunch after church for those who stay for the MIF discussion. Lynda Ferris-Olson gave permission for the Fellowship Special Fund to be used to fund this brunch.
• Discussion about volunteer recruitment for the various ministry areas.
• Erik Cushman discussed volunteer recruitment and specifically addressed the need for preparing communion and distribution of the elements. He has been working with Leah on this. Erik will work with Ben on asking the Deacons for assistance with preparing and serving communion.
• Two Elders are needed for the Nominating Committee. Alan Roberts and Scott Legwold have volunteered to be the Nominating Committee until the end of June.
Finance Report​
• January was a weak financial month. This is somewhat expected after such a strong December.
• Parking Lot Campaign: Brett will write a Connector article to give an update on the status of the parking lot campaign in the next 2-3 weeks. We should run that a few times and provide options on how to give. We won't be doing anything more formal as a follow-up campaign at this point. We could provide this update in the bulletin announcements as well and perhaps on a screen.
Children's Ministry​
There won't be a Children's Ministry Sunday this year. We will be encouraging them to participate in worship throughout the year.
Building and Grounds​
The Youth Room is in the midst of a major renovation.
Personnel​
Ying (church pianist) will be graduating in May and Doug will be following up with him to see if he can stay on beyond then or not.
Student Ministry​Elder Emily Bauer
Working on the Youth Room renovation. Guatemala Fundraiser was very successful and fun.
Adult Nurture and Spiritual Growth ​Elder Scott Legwold
The January speaker and breakfast were well received. Glen and Pastor Susan will be leading the next Bible study.
Fellowship​Elder Lynda Ferris-Olson
Donut Breakfast March 5. More volunteers are needed for coffee preparation.
New Member Outreach​
Outreach is working with ministry areas to update informational fliers. Elders should work with Chris Drake on this.
Other ministry areas had no report, or reports were combined into general discussion topics.
---
Organ Recital Thank you!
If you were not able to attend, you may watch the organ recital here.
Thank you to all who made the Historic Organ Recital a success including our Session, ushers, Brian Gade, Erik Cushman, Chris Drake, Alka Van Haren and the Wallace family for providing refreshments! 115 attended a wonderful showcase concert for our historic organ in memory of Pat Ronspiez. The free will offering raised $1168.20 to the Waunakee High School Music Department grand piano fund!
Sam Robinson
Music and Worship Coordinator
---
Project Connect: Spring forth with faith
Make connections, be a listener, be a blessing to others.
Interested individuals and families will be paired with seniors or people with caring needs to
build multi-generational relationships.
Examples for activities: send a card, share Spring flowers, assist with Spring clean up, play a card game, and many more.
Please register by April 16th
Contact Kristy Drewry kristinedrewry@gmail.com or Christa Schmeelk cschmeelk@myfpc.org
---
VBS Registration and Volunteer Sign-up is now LIVE!

Registration is now live! If you hear space calling and want to explore, please register today!
Blast Off Location: FPC
Dates: June 25-27
Times: 5:30-7:30pm
Cost: $30 for the first passenger and $20 for each sibling (includes a space shirt this year)
---
Nursery is open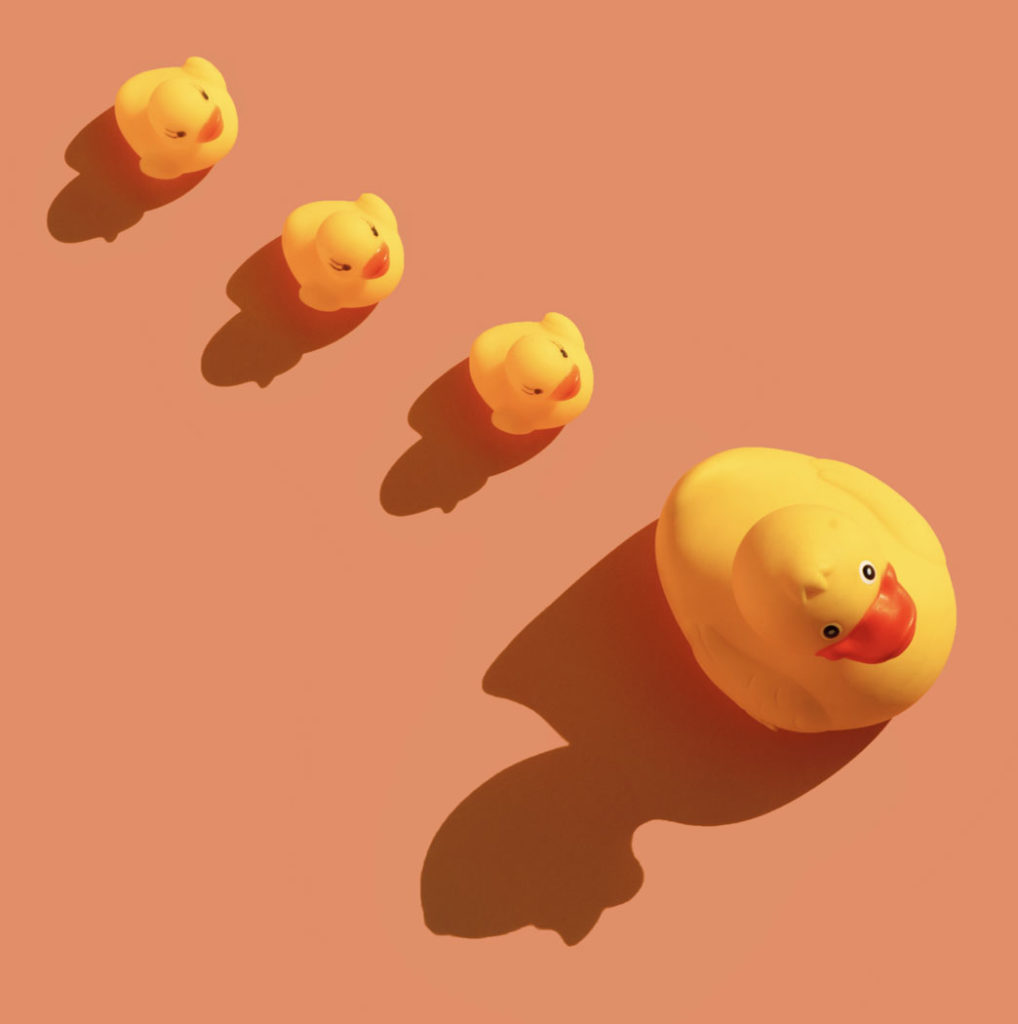 Nursery Age 2 and Under – Room 200
The Nursery is available on Sundays from 9:00 – 11:00 AM, is staffed by church volunteers who love children and want to share God's love with them.
---
New 3-4-year-old Kingdom Kids Sunday School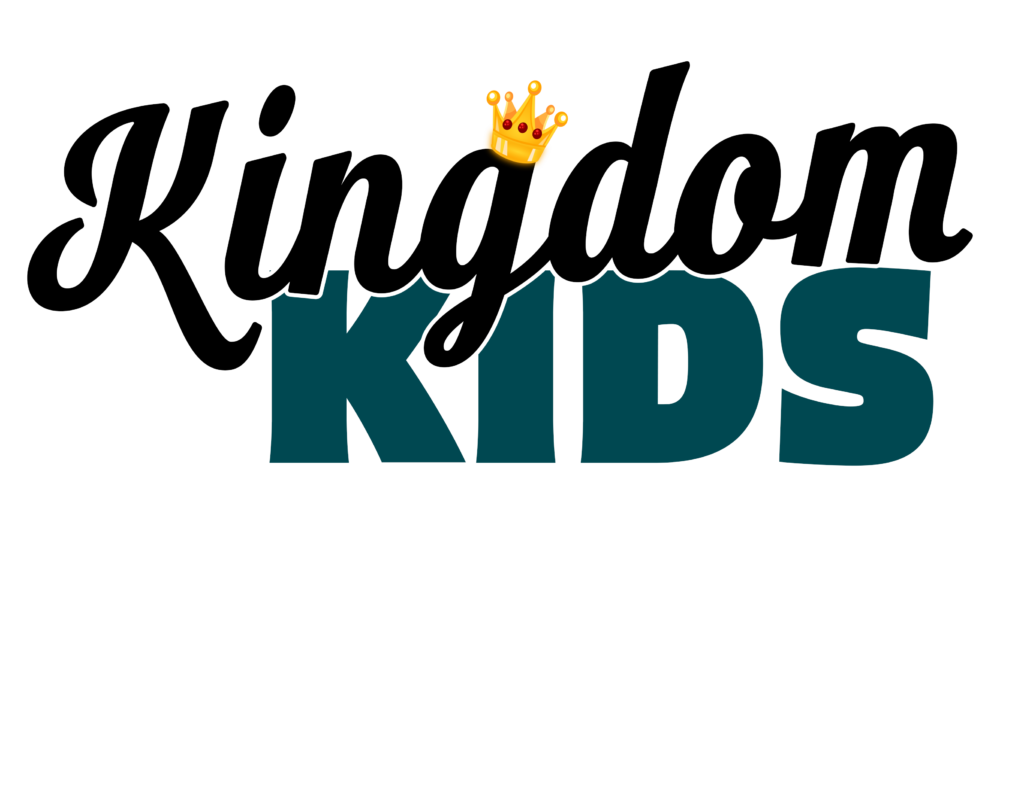 3-4-year-old Kingdom Kids now have their own Sunday School class from 9:00 – 9:50 AM on Sunday, in the Kingdom Kids room.
4k-Kindergarteners will still be upstairs.
Are you familiar with FPC's FOOF wall?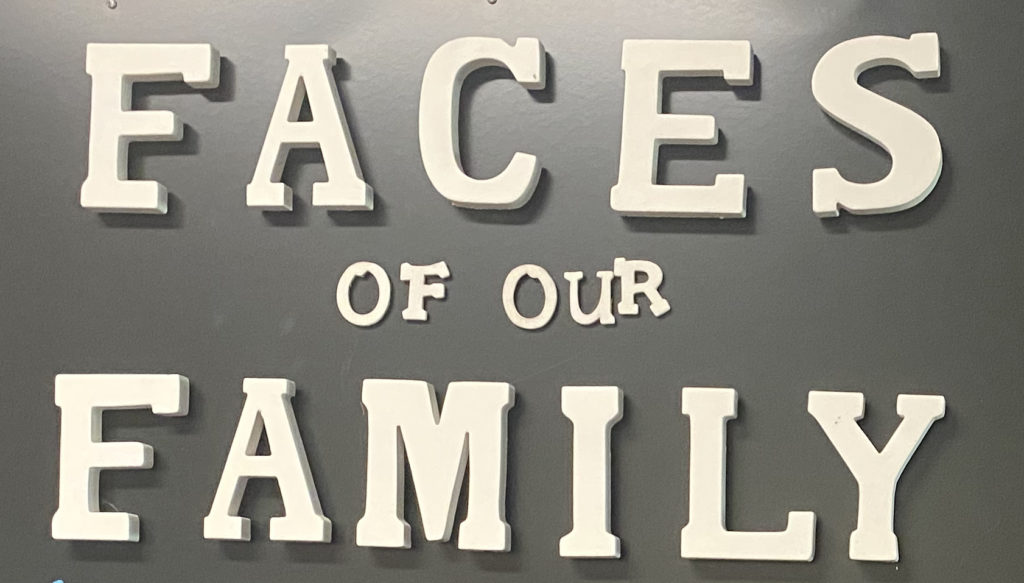 Are you familiar with FPC's FOOF wall? It's not just a funny name! Take a walk down to the children's education wing, and there you will see photos of many of our church members, staff and volunteers. This is our FOOF wall – the Faces Of Our Family.
The FOOF wall is more than just a collection of photos. It helps our members recognize and get to know each other. It's a useful tool for church leaders and staff. It's a great connection mechanism within our congregation. And we need your help to make our FOOF wall current again!
Many of the photos on the FOOF wall were taken years ago while putting together our church directory. Most of us look very different today! Some of us have gotten married or had babies over the past few years. Some of us may be new to the church, and did not have an opportunity to submit a picture for our wall. So we would appreciate your assistance as we update the "faces of our family."
Do you have a family photo that you used for your Christmas card this year? Or perhaps a picture taken over the holidays? Please take a moment to send the picture to us by clicking the button below. Thank you!
---

Upcoming Music in Worship
April 2 – Joshua Hayes and Brooksy Beilke-Skoug
April 9 – Easter Sunday 8 AM – Ying Wang, pianist, and Diane Robinson, soloist
April 9 – Easter Sunday 10 AM – Choir, Joyful Noise, and Yahara String Quartet
April 16 – Audrey Manning, Cherith Brown, Brett Cable, and Jason Cable
---
---
Back to the top
---
Coming Events | April 2 – April 22, 2023
---
This Sunday, April 2 at 9:00 – 9:50 AM – Easter Trail
Parents, mark your calendars for the Easter Trail! Bring your child to Sunday School on Palm Sunday, April 2nd from 9:00 – 9:50 AM so they can walk through the events of Holy week during Sunday School. There will be fun, snacks, and a goody bag to help them celebrate Holy Week!
---
Sundays at 9 AM – Graceland Student Ministry
There will be no Graceland Student Ministry on Easter Sunday, April 9th as volunteers will be spending Easter with their families.
7th-12th Graders, join us each week for a time of connection, Bible discussion, and prayer.
---
Sundays at 9 AM – Sunday School for 4K-Adults
There will be no Sunday School on Easter Sunday, April 9th as volunteers will be spending Easter with their families.
---
Sundays – During Service – Kingdom Kids
There will be no Kingdom Kids on Easter Sunday, April 9th as volunteers will be spending Easter with their families.
During the worship service kids can leave the worship service after the Children's Moment and need to be picked up in room 202 after the service is over.
We offer Kingdom Kids for 3-year olds – kindergarten. Kingdom Kids offers a fun, unique time for children to explore their faith and form positive relationships with peers.
---
Monday, April 3 at 1:00 – 2:30 PM – The Light Team Meeting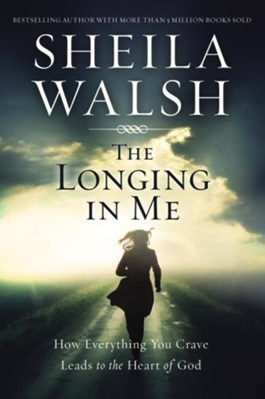 The Light Team is comprised of women who want a chance to meet for fellowship and Bible study. We pray for each other and those in our church family and community. When possible, we extend ourselves in projects to help others. There is no homework and we include humor and laughter! We meet in the Gathering Place on Mondays at 1:00 – 2:30 PM. All are welcome to attend any or all of our sessions.
---
Wednesdays thru May 24 at 8:30 – 10:00 AM – Women's Community Bible Study
The Wednesday Morning Women's Bible Study Group is made up of women from the surrounding community at large. All are welcome. This season we are exploring "How Much More" by Lisa Harper. Meet us on Wednesdays 8:30 – 10:00 AM in the Conference Room, entering through the west side Education Wing doors. Contact Beth Stellmacher for more info: bstell122515@tds.net.
---
Wednesdays at 7:00 – 8:15 PM – Graceland Student Ministry
7th-12th Graders, join the fun upstairs in the Youth Room for a time of connection, games, message, meaningful small group discussion with students your same grade, and prayer.
---
This Thursday, April 6 at 6 PM – Holy Thursday Worship Service
This coming Thursday April 6th at 6pm, there will be a Holy Thursday Worship Service in the Chapel. Some call this day Maundy Thursday after the new commandment ("love one another") that Jesus gives to the disciples on this night. The Latin for that phrase begins with "Mandatum" which means "Command".
The service is simple:
• We sing some teachable songs.
• We, as a group, read the Passion according to Matthew.
• We reflect together on what we just heard.
• We celebrate Communion.
• We sing a simple psalm before ending the service.
This is probably my favorite worship service during the year. Please come.
Peace,
Pastor Glen
---
Friday, April 7 from Noon – 3 PM – Journey to the Cross
On Good Friday (April 7th), the church will be open between the hours of 12 noon and 3pm for an individual worship experience.
• We have created a booklet called "Journey to the Cross" which will lead each individual on a journey with Jesus through his passion.
• Those who come will be directed to pause and ponder what Jesus went through on that "Good" Friday.
• Christa Schmeelk, Pastor Ben and I will be available during those hours to talk and pray with individuals.
Come anytime between 12noon and 3pm that day and walk more deeply into the mystery and wonder of this Holy day. It is so worth it.
Blessings as we enter into this "Holy Week". God has graces for you to discover.
Peace,
Pastor Glen
---
Sunday, April 9 at 8 AM and 10 AM – Easter Worship Services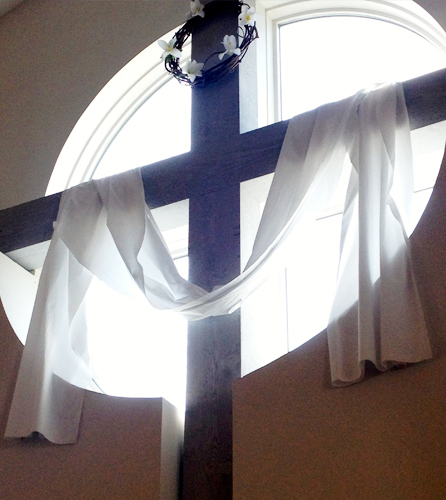 FPC will host two worship services on Sunday, April 9 for Easter, one at 8 AM and another at 10 AM. There will be no Children's Sunday School, Graceland, or Kingdom Kids as volunteers will be spending Easter with their families. However, there will be Nursery for ages 0-2 at the 10am service only.
Save the Date | More Info to come
---
Sunday, April 30 at 11 AM – First Communion Parent and Child Meeting
Following the worship service we will meet in the Chapel.
---
Sunday, May 7 at 10 AM – FPC's First Public Communion
FPC's annual First Public Communion will be on Sunday, May 7 during the 10am service. For more information or to sign up, contact Christa Schmeelk cschmeelk@myfpc.org.
---
Friday, October 20 – Sunday, October 22 – FPC Marriage Retreat
Pastor Glen and his wife Christine will lead this event at the Green Lake Retreat Center. Cost is $199 per couple for 4 meals and 2 nights' lodging. Contact Pastor Glen or Christa Schmeelk for more information.
---
---
Back to the top
---
Opportunities to Serve
---
---
Shelter From The Storm Ministries Needs Volunteers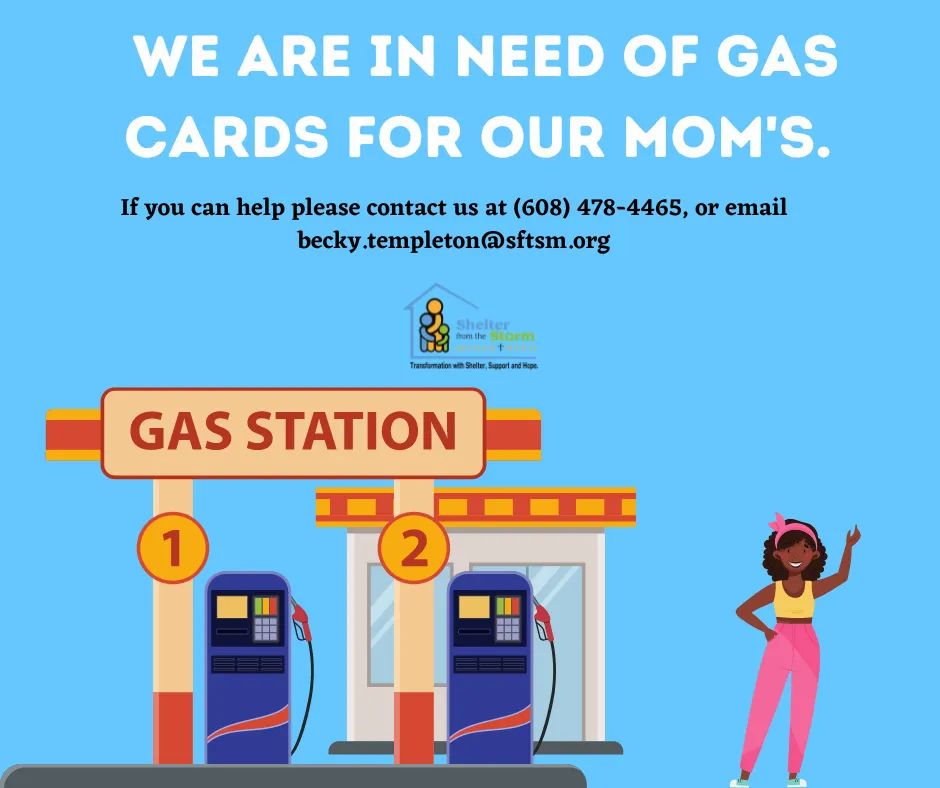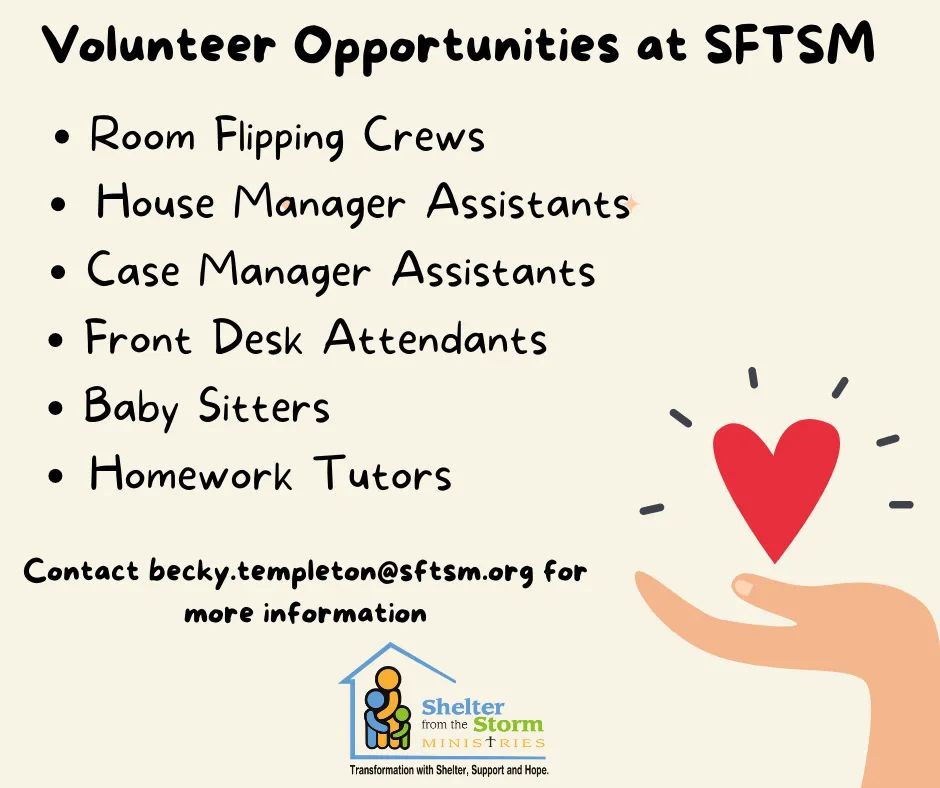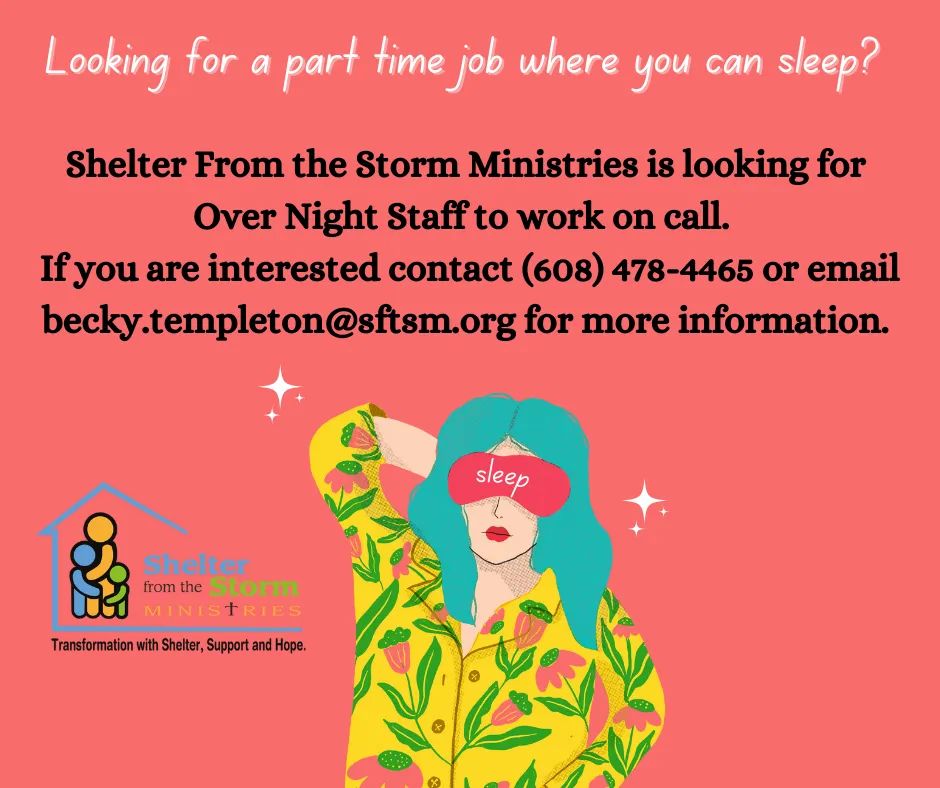 Contact becky.templeton@sftsm.org for more information!
---
---
Stephen Ministry at FPC: Providing God's Care to Hurting People
What is this ministry about?
Extensively trained and supervised Stephen Minister Caregivers provide high-quality, one-on-one confidential Christian care to anyone in need. They provide weekly visits and ongoing support as long as the care receiver needs. Should the care receiver have needs that are beyond the scope of a Stephen Minister Caregiver, they are referred to professional caregivers.
What kind of care is offered from a Stephen Minister?
CRISIS CARE – For people experiencing change(s) that significantly challenge their ability to cope.
FOLLOW-UP CARE – After the crisis event.
CHRONIC CARE – For a person whose situation is unlikely to change.
PREVENTIVE CARE – Providing care before a crisis occurs.
SUPPORTIVE CARE – Care for the caregiver.
How can I find out more about this ministry?
Call the church office at 608-949-9445, or reach out to a pastor or deacon. Stephen Minister Caregivers don't replace the care of pastors and deacons. They carry it a step further.

Doneta Chorney
608-345-1196

Tryg Knutson
608-622-9539

Jill Umlauf
715-360-5962
---
Want to receive an email notification when the weekly Connector is updated? Sign up here!
---
Connect with the Connector!
In an effort to streamline the process for submitting requests for event announcements in the Connector or spoken during the worship service, Communications has developed this easy-to-use online form to share all of your important information.
Click the link below to check out the form and if you have any feedback or questions, please send an email to communications@myfpc.org.
The Connector is available in print at the Connection Corner in the Lobby for those who would like a printed copy.
The Connector comes out at 4 PM every Friday. The deadline for submissions is noon, the Wednesday prior.