THIS Saturday, April 10 | 10-11 am, drive by the front doors of FPC to pick up Communion Elements for the virtual service and receive prayer.
From Pastor Kirk's Travel Diary…
While on post-Easter break with our granddaughters we drove by this sign. "Kirk" is a scottish word which means church and I often call my granddaughter Penelope, "Sweet Pea!"

Pastor Kirk
Two family references on one sign! How fun. Hope you're enjoying your travels, Pastor Kirk!
---
New Leadership Team for Stephen Ministry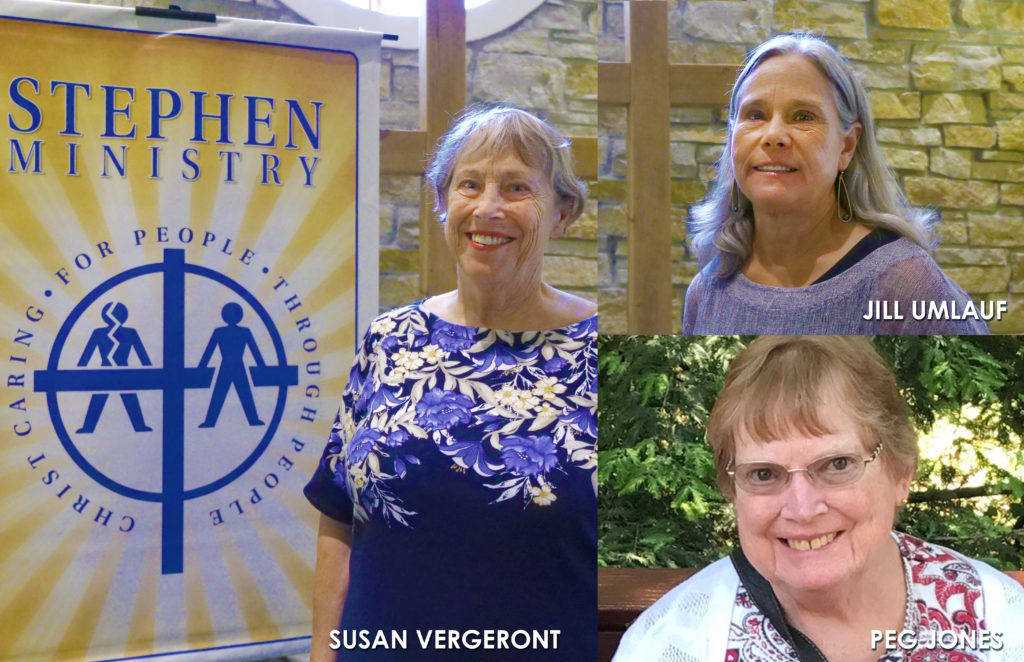 Great things are happening in the Stephen Ministry at FPC. Three of our commissioned caregivers are taking over the leadership of this important program. Jill Umlauf is our Care Coordinator, Susan Vergeront is the Moderator, and Peg Jones is taking over as the Peer Supervisor and Administration. Connie Pelton is our deacon liaison.
In their new leadership roles, the women will continue to act as caregivers while also ensuring all facets of the ministry are running strong. Stephen Ministry leaders direct and coordinate the ministry for the congregation. They recruit, select, train, supervise caregivers and locate people with needs for care and match them with a Stephen Ministry Caregiver.
There are THREE main ways for you to be involved in Stephen Ministry:
Financially support this important ministry. Educating new caregivers is on the FPC Wish list for anyone who is moved to give. You can donate online here. Use the "Other" field to allocate your donation to Stephen Ministry.
Consider becoming a Stephen Ministry Caregiver. If you have a heart for others, have strong boundaries and can keep confidential information, Stephen Ministry could be an exciting and fulfilling ministry for YOU! Send an email to Susan Vergeront with your interest in caregiver training.
Share the Stephen Ministry resource with others! If you know of anyone is struggling and could benefit from a caregiver, please pass their name onto a pastor or call the office.
---
---
Thank You Easter Trail Volunteers!
A big THANK YOU to everyone that helped make the Easter Story Trail a huge success! Thank you to those that helped with items from the wish list, those that ran a stop on the trail, and for everyone that prayed for the event! We had about 50 kids drive through the trail. Families were very appreciative for the event and many enjoyed the unique way to hear the Easter Story. Each stop gave the kids something to remember that part of the story. These were the 10 stops on the trail:
| Station Name | Item Given Away |
| --- | --- |
| Palm Sunday | Story eggs |
| The Last Supper | Oyster crackers to represent bread |
| Garden Gethsemane | Candy to represent the garden |
| Peter's Denial | Baby Chick craft/eraser giveaway to represent the rooster crowing |
| Jesus' trial | Doritos to represent the crown of thorns |
| Jesus is beaten | Hershey hugs to represent how we'd hug hurt people |
| Jesus dies | A cross craft |
| 3 Days Later | Ritz crackers to represent the stone that rolled away |
| Visit from Jesus | Craisins to represent the healing wounds in Jesus' flesh |
| Story Continues | Fluffy popcorn to represent clouds of Heaven |
Again, thank you for helping make the Easter Story Trial a memorable experience!
---
Graceland Student Newsletter
Catch up on all the student ministries offerings in the now-weekly Graceland newsletter. In this week's newsletter:
Get your Graceland hoodie!

Video message

Send your dad to Bible study
Elevation Worship's Graves Into Gardens music rec
Ever been over dramatic?
Thirsty? Ezrah will bring you a drink!
---
More upcoming events:
Virtual Trivia Night – for adults
TONIGHT! Friday, April 9 | 7 pm
It's time for an adult game night, am I right!? Join us April 9 at 7 pm via Zoom.
Meeting ID: 874 4940 5816
Passcode: fpc
---
Looking for more in-person opportunities?
Would you be interested in an in-person art night or craft-ernoon? What about an in-person small group Bible Study? Or maybe meeting up for fun outdoor activities?
Email Christa or Ezrah Schmeelk with your interest!
cschmeelk@myfpc.org eschmeelk@myfpc.org
All 5th and 6th graders are invited to brush up your juggling, singing or stand-up act to wow a Zoom audience on April 16. All talents will be showcased! Email Children's Ministry Elder, Melissa Schall, with any questions.
Virtual Family Bingo
Friday, April 16 | 6:30 pm
Back by popular demand!! Another all ages virtual Bingo Night on April 16 @ 6:30 pm! Print your Bingo Cards ahead of time (and use as many as you want!) https://letsplaybingo.io/generator. If your printer isn't working, just generate a card and draw it on a piece of paper! Make sure you have bingo "markers" (like cheerios, torn up scraps of paper, or game pieces – anything that fits!)
The following Saturday, there will be Drive Through Prize Pick Up April 17 from 10-11 am at the FPC front entrance. Email Christa Schmeelk with Questions! cschmeelk@myfpc.org
Meeting ID: 831 0724 9908
Passcode: fpc
Elijah Bible Study
Sundays beginning April 18 | In-person and Zoom
Beginning on April 18th, Christa Schmeelk, Director of Family Ministry, will be doing a 7-week study on Elijah, by Priscilla Shirer. There will be In-person as well as virtual attendance options. Here is a sneak peak:
In-person Bible Study: Directly after the Sunday Service at 10:45am in the Session/Conference Room.
Virtual Bible Study: Sundays, 4-5 pm on Zoom.
Meeting ID: 856 1639 0483
Passcode: fpc
If you have any questions, if you want to sign up, or if Sundays do not work for you, but you want to participate on your own, please email Christa Schmeelk: cschmeelk@myfpc.org
Mens' Bible Study on James
Sundays, April 18 – May 23
Attention men of FPC! Would you like to have a better understanding of the Bible and grow in relationship with God and other men at FPC? If so, Ezrah Schmeelk, our Director of Student Ministry, invites you to participate in a 6-week Bible study on the book of James . This group is open to men of all ages and will be meeting on Sunday's from April 18 through May 23.
Both virtual and in person opportunities are available. Registration is open through Sunday, April 11. Please contact Ezrah for more information.
Student Ministry Family Hike at Gibraltar Rock
Saturday, April 24 | 10am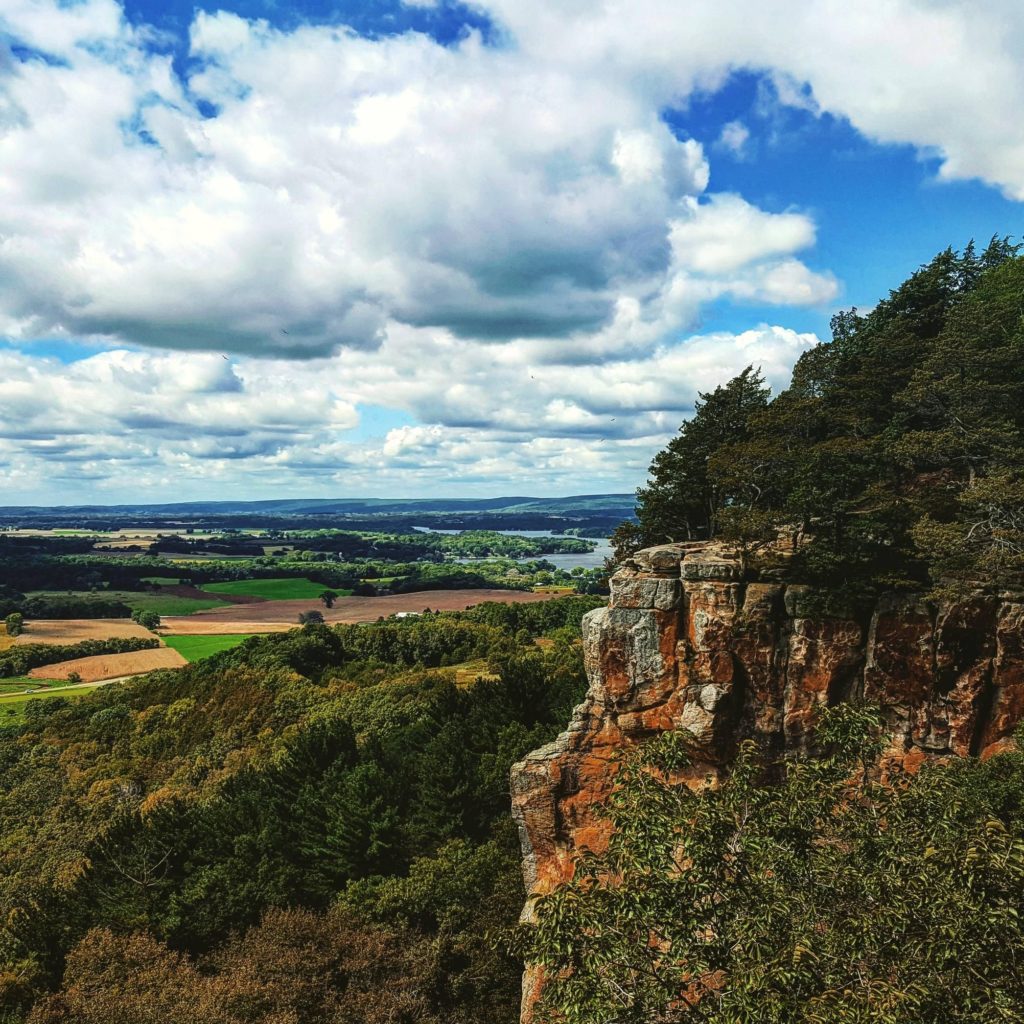 Any family that has a student in 7th-12th grade is invited to meet Ezrah and Christa at the Gibraltar Rock trailhead in Lodi at 10am on Saturday, April 24. If you are wondering about a weather cancellation, please call and ask Ezrah before you drive: 608-208-3262.
Stephen Ministry
We know the COVID-19 pandemic has impacted everyone—raising the level of fear, stress, and anxiety for people all over the world and underscoring the importance of caring ministry. As a Stephen Ministry congregation, we equip and empower lay caregivers to provide high-quality, confidential, Christ-centered care. Our commitment to this ministry is extremely important during these uncertain times.
If you, or someone you know, could benefit from this ministry, contact the church office.
---
Want to receive an email notification when the weekly Connector is updated? Sign up here!